Travelling to Maremma, Tuscany
If you are traveling in Maremma then a stay with us Tenuta Le Mandorlaie agriturismo Maremma should definitely be on your list of things to do and enjoy. We offer a stay in your own luxurious Lavender cottage surrounded by its own lawns, gardens, olive trees, sea views and views over the olive groves.
Need more information?
On our site if you would like more information about staying with us please visit these pages; 'booking', 'rates', 'services', 'location and contacts' or our extensive 'Frequently asked Questions' page. If you have more specific questions for us, please use our 'contact us' page.
Your own cottage
Lavender cottage is perfect for a couple, and comes with all the amenities for a day stay or more if you want to relax and explore Maremma. Having been recently renovated we wanted to make it as luxurious as we could, and to include all the things we used to miss when staying in agriturismo's in the past. Lavender cottage is also environmentally friendly having solar water heating and hybrid energy efficient heat pump cooling.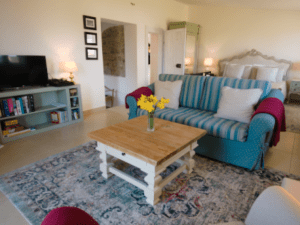 When staying with us you also have the use of the pool which is situated infront of the main house lawn with its own sun shaded gazebo's and lounge areas on the lawn. The pool also has sea views and views over the olive groves and is a great place to relax after a morning exploring the towns and villages of the area.
Maremma, celebrating Wine and Oil
We are located centrally just 8 minutes from Scansano with the sea and 30 minutes from the beautiful blue flag beaches of Maremma with many hilltop villages close by just ready to be explored. We are also surrounded by vineyards and olive groves where some of the worlds best wine is produced.
We are in the area of Mandorlaie and are surrounded by incredible vineyards, who offer wine tasting to visitors, or if you would like to enjoy typical Maremma dishes we have incredible authentic restaurants on our doorstep. With so much nature, calm and tranquility, a stay at Tenuta Le Mandorlaie will let you enjoy the peaceful side of Tuscany.
Pet Friendly agriturismo
We are also pet friendly,giving you the chance to bring your pet, and be safe in the knowledge that they both have the space to explore the surroundings around the house, but also cannot go past the fenced perimeter.