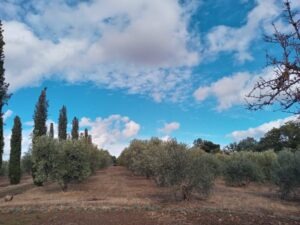 If you are planning a trip or Tuscany vacation then its always good to check on what the weather will be like for the period of your stay. The weather in Tuscany is generally mild to warm with little rain in the summer months.
The temperatures range from 12°C degrees average in the winter months to 34°C in summer months. The hottest months are July and August when temperatures can reach 34°C.
So is it better to visit Tuscany in the spring? the summer? Autumn?
We know that weather can be different due to the geological makeup of Northern Tuscany, Central Tuscany and the Southern Tuscan Maremma regions, in many areas we are both close to the sea, and also not far from the hills.
This then produces micro climates which can be cooler or warmer depending on the season, it is also what ensures that southern Tuscany has perfect conditions for the growing of fruit, vegetables, olives and of course grapes for the amazing Tuscan wines.
Let's have a closer look at the Tuscan weather each month, please remember there will be some variation, every year can be different.
January
January in Tuscany is the coolest month, it is mostly sunny and dry but the evening and nights can be colder with temperatures in Southern Tuscany averaging around 3°C to 10°C. It is still a beautiful time to visit Tuscany, the small villages and towns are vibrant and restaurants still serving up the most amazing Tuscan winter dishes. Enjoying nature even in the coldest months is easy, you are surrounded by unspoilt nature in the Maremma area. Activities on the farm in January include pruning olive and fruit trees, first prune of grapevines and vegetable garden soil preparation.

February
February is the second coolest month in Tuscany with temperatures hovering around 3°C to 11°C. It is still mostly sunny and dry. Its still great to explore walk, ride and drive around the Tuscan towns and villages, the early evening giving you a chance to relax and reflect infront of the fire! Activities on the farm in February include continuing to pruning olive trees, clearing the wires from last years grapevines and in the vegetable garden getting seed trays planted.

March
March in Tuscany can bring some rain, the temperatures stay between 4°C to 15°C so you can already feel the days warming up and spring in the air. Activities on the farm in March include planting vegetable seedlings into the greenhouse and finishing the pruning of olive trees.

April
Spring is really here in Tuscan April, the weather can be a bit mixed with some rain showers but not too much, the temperatures are starting to creep up with averages around 8°C to 19°C and the days are starting to feel at least a bit longer.
May
One of the best months to start visiting Tuscany, the warm days are here with some days even reaching up into the low 30's. There is less rain now, just some scattered showers on fewer days and with many flowers, trees and shrubs showing their new buds, leaves and some flowers its a beautiful time of the year. Average temperatures are 13°C to 24°C.
June
June brings warm weather in Tuscany, the rain showers of spring are behind us and amazing sunrises and sunsets linked to to longer days mean even more time to enjoy the vista's. The temperatures are stabilising well in June and average temperatures are 15°C to 27°C.
July
The summer is upon us, and you can feel the difference, those nearer the coast feel cooler, there is little chance of rain and at Tenuta Le Mandorlaie at just over 320 metres above sea level we feel normally around 4°C cooler than areas at sea level. Its the perfect time to relax, do things more slowly and enjoy the pace of life in Tuscany's Maremma and southern coastal region. Average temperatures are 20°C to 30°C
August
August is the time everyone wants to be on holiday in Tuscany, the weather is balmy, there is almost no chance of rain and the locals are settled into their summer schedules, living life more slowly allows you to easily deal with your day, its still a time to be able to sightsee, our recommendation; just start directly after breakfast to avoid the heat of mid-day. Once its 1pm, its either time for a restaurant and a leisurely lunch or time to relax in the pool overlooking the vineyards and olive groves. Average temperatures are 24°C to 34°C
September
A great month to visits Tuscany, the countryside has relaxed after the warmth of August and the locals are going about their business of living life in Tuscany. With so much to see, art, history, spectacular views as well as foods and wines that will keep you asking for more the month of September gives you the ability to get on with it all, average temperatures in September are 19°C to 27°C. Activities on the farm in September include include the grape harvest, a special time on any vineyard focused farm.

October
If you are planning a trip to Tuscany October is a month that is cooling down, there may be some showery days but overall the days are sunny and warm. Average temperatures in September are 13°C to 23°C
November
As you may have read, October is the wettest month in Tuscany this however should not stop you visiting, its a chance to get to take time in all the art, historic monuments and buildings as well as museums that you maybe would not have seen in the heat of summer. Its definitely wise to invest in an umbrella however. Average temperatures are 8°C to 18°C. Activities on the farm in November includes the olive harvest.

December
A cooler month, after all we are in Tuscan winter now, with some rainy days its time for log fires and relaxing in cozy restaurants, definitely a time for enjoying walks also, its a great time to experience the outdoor Tuscany. There are still sunny days that can reach up in to the 20's but average temperatures are 5°C to 13°C