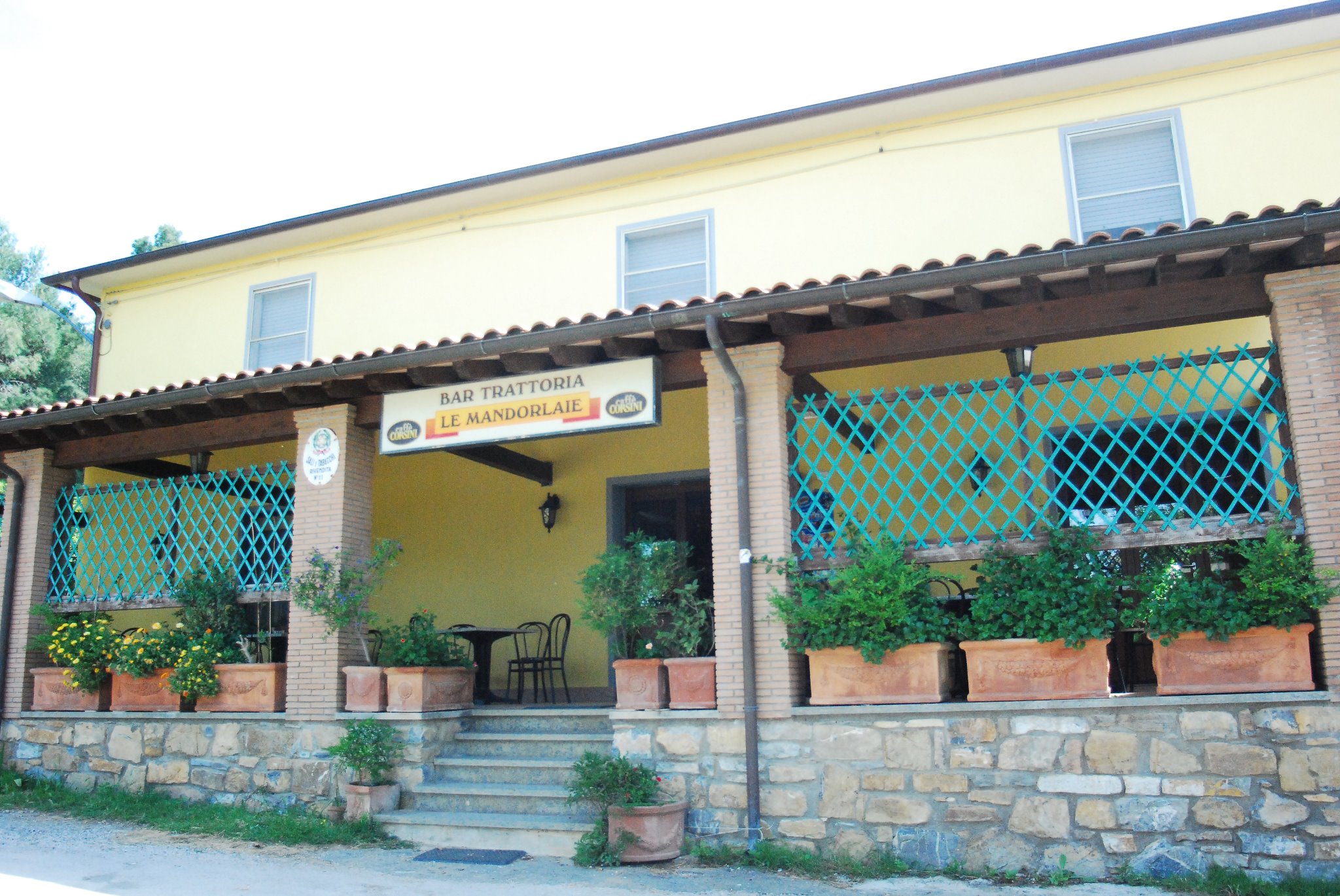 Trattoria Le Mandorlaie – Maremma Restaurant Guide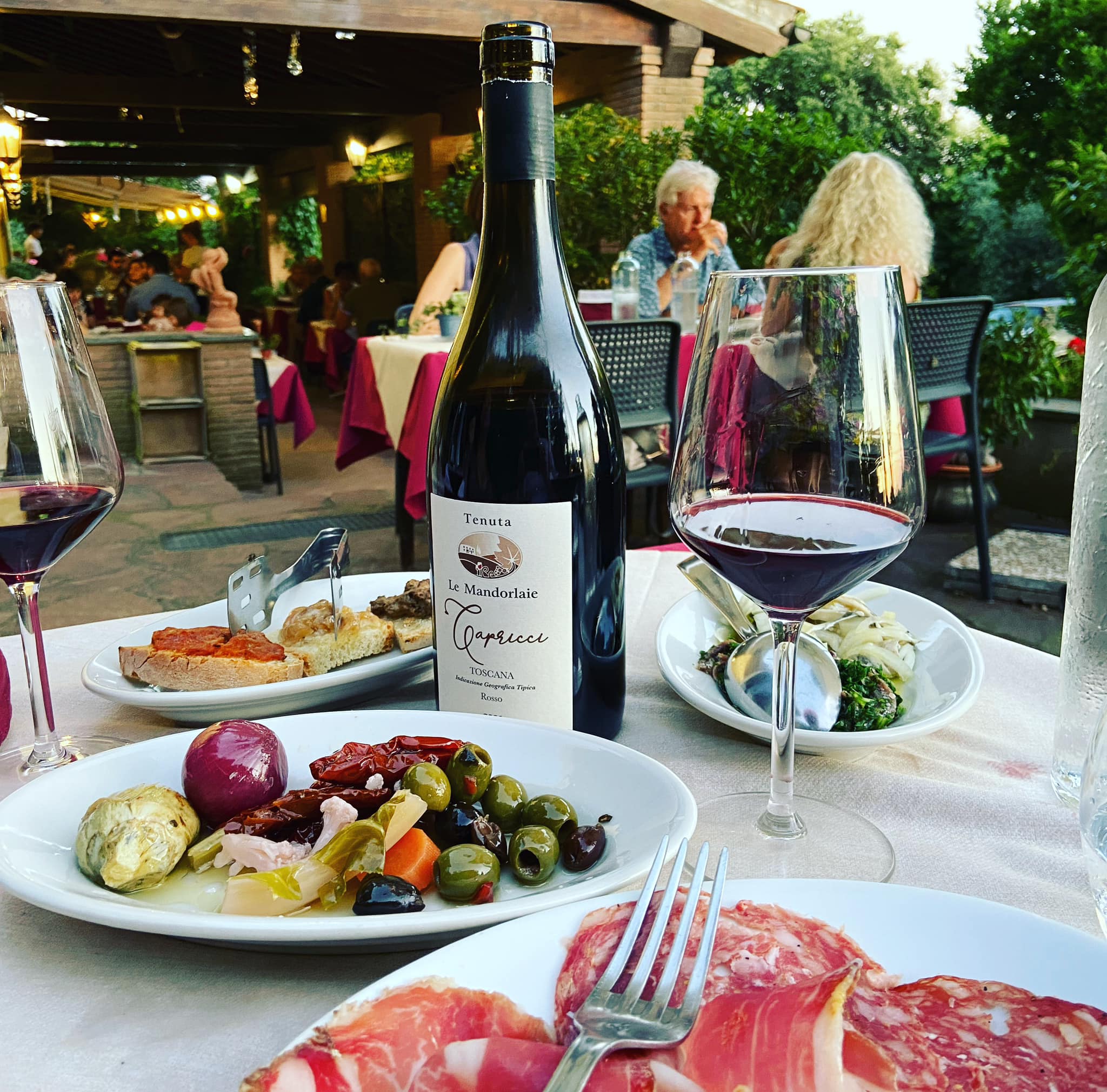 Welcome to our page all about Trattoria Le Mandorlaie, a local Maremma restaurant very close to Tenuta Le Mandorlaie. We have been eating at this incredible restaurant since before we moved to Maremma, infact we never knew that in the future we would become neighbors with the incredible family that runs the restaurant.
All about Trattoria Le Mandorlaie
Maremma is a natural, open, a beautiful area that defines organic farming, cultivation of the land and is made up of operational family farms, all producing incredible km0 products. When you want to experience the dishes of Maremma, we recommend eating at Trattoria Le Mandorlaie, with generations of serving food to both locals and visiting guests the restaurant is built around providing healthy, hearty real Tuscan dishes made with local produce.
The restaurant is operated by three generations who have been feeding locals and tourists for many decades, it is great to see such a family succeed and continue to provide such great food for everyone.
Trattoria Le Mandorlaie, located in the charming town of Scansano, is a hidden gem in the heart of Tuscany. With its warm and welcoming atmosphere, this trattoria has gained a reputation for its exceptional cuisine that highlights the best of the region's culinary traditions. The focus on fresh, local ingredients and traditional cooking techniques makes Trattoria Le Mandorlaie a must-visit destination for food enthusiasts.
One of the standout features of Trattoria Le Mandorlaie is their commitment to using seasonal ingredients sourced from local farmers and producers. The menu changes regularly to showcase the freshest flavors of each season. From ripe tomatoes and fragrant basil in the summer to hearty root vegetables and wild mushrooms in the fall, the dishes at Trattoria Le Mandorlaie are a celebration of the region's bounty.
The trattoria's menu is a perfect blend of traditional Tuscan dishes and innovative creations that showcase the chef's creativity. Classic Tuscan appetizers like crostini topped with chicken liver pâté or fresh bruschetta with ripe tomatoes and garlic are excellent choices to start your culinary journey. The pasta dishes are a true highlight, with handmade tagliatelle or pappardelle tossed in rich ragù sauce or delicate seafood creations that transport you to the Mediterranean coast.
One of the signature dishes at Trattoria Le Mandorlaie is the famous Bistecca alla Fiorentina. This mouthwatering T-bone steak is sourced from local Chianina cattle, known for their tender and flavorful meat. Cooked to perfection over an open flame, the steak is served rare or medium-rare, allowing the natural juices and flavors to shine through. It's a carnivore's delight and a testament to the trattoria's dedication to showcasing the best of Tuscan cuisine.
To complement the exceptional food, Trattoria Le Mandorlaie offers a carefully curated selection of wines. Tuscany is renowned for its world-class wines, and the trattoria's wine list features a variety of local options, including Capricci IGT Toscana Rosso from Tenuta Le Mandorlaie, also the robust and elegant Brunello di Montalcino or refreshing Vermentino from the nearby coastal region. The knowledgeable staff is always ready to assist in selecting the perfect wine to enhance your meal.
The warm and inviting ambiance of Trattoria Le Mandorlaie adds to the overall dining experience. The rustic decor, with its wooden tables and exposed brick walls, creates an intimate and cozy atmosphere. The attentive and friendly staff make you feel like a part of the family, providing excellent service and ensuring a memorable visit.
Whether you're a food connoisseur or simply looking for an authentic taste of Tuscany, Trattoria Le Mandorlaie in Scansano is a culinary destination worth exploring. With its focus on fresh, seasonal ingredients, traditional recipes, and warm hospitality, this trattoria offers an unforgettable dining experience that captures the essence of Tuscan cuisine. Prepare to indulge in the flavors of this remarkable region and leave with a newfound appreciation for the artistry of Italian cooking.
Maremma food history
The area of Maremma up until today consists mostly of farmers, and due to this most food dishes are very vegetable concentrated, the reasons behind this is the seasonal vegetables always available, game meats were also available, but not so frequently. It was uncommon to have meat dishes and when they were available they were made to be rich and hearty but with the changing times. come changing tastes and now tasty meat dishes are always on the menu, served alongside incredibly fresh vegetable offerings.
The Menu
Maremma dishes are stepped in stories and history, and are defined by the produce that is around us, this includes meat and game such as Wild Boar, Deer, Rabbit and hare.
All the dishes are prepared fresh daily, and the vegetables are all from local farmers. Their extensive menu includes many of the best local dishes, and the restaurant is known for its authenticity when it comes to creating and serving Maremma dishes.
Some of our favorite dishes include;
Acquacotta: Acquacotta is a simple and hearty soup made with stale bread, onions, tomatoes, and a variety of vegetables such as kale, spinach, or zucchini. It is typically flavored with garlic, herbs, and sometimes topped with a poached egg.

Pappardelle alla Leper: Pappardelle is a type of wide pasta, and this particular dish combines it with a rich sauce made from hare or rabbit. The sauce often includes tomatoes, garlic, onions, and herbs, slow-cooked to develop deep flavors.

Tortelli Maremmani: Tortelli are stuffed pasta pockets similar to ravioli. In Maremma, they are often filled with a mixture of ricotta cheese, spinach, and sometimes flavored with nutmeg or lemon zest. The tortelli are typically served with a simple tomato sauce or butter and sage.

Pici all'Aglione: Pici is a thick, hand-rolled pasta similar to spaghetti. Pici all'Aglione is a classic Maremma dish that features pici served with a sauce made from aglione, a type of garlic with large cloves and a milder flavor. The sauce is prepared with tomatoes, chili, and herbs for a robust and flavorful combination.

Bistecca alla Fiorentina: A famous Tuscan dish, consisting of a thick-cut, grilled T-bone steak seasoned simply with salt, pepper, and olive oil.

Pappa al Pomodoro: A Tuscan tomato and bread soup made with stale bread, ripe tomatoes, garlic, basil, and finished with olive oil.

Porchetta: A succulent roast pork dish made by seasoning a whole pig with herbs and spices, then slow-roasting it until the meat becomes tender and flavorful.

Tagliatelle al Ragù di Cinghiale: Tagliatelle pasta with wild boar ragù.

Spezzatino di Cinghiale: Slow-cooked wild boar stew.

Carciofi alla Maremmana: Maremma-style artichokes, typically stuffed and baked.

Cinghiale in Dolceforte: Wild boar cooked in a rich chocolate and spice sauce.

Bruschetta Maremmana: Grilled bread topped with fresh tomatoes, garlic, and basil.

Salsiccia Maremmana: Traditional Maremma-style sausage, often grilled or used in various dishes.

Castagnaccio: Chestnut flour cake with raisins, pine nuts, and rosemary.
Location
Surrounded by vineyards and forest, the restaurant is centre'd in the heart of the valley of Mandorlaie and has an incredible setting in its own gardens, with outdoor seating and areas for children to play. The sunset here is amazing too, arrive in the early evening and enjoy drinks while your food is being prepared. Dining outside with the sun setting over Maremma vineyards is truly magical.
Contact details
Telephone – 0564 183 7733
Address – KM. 9, Strada Provinciale Aione, 58054 Scansano GR