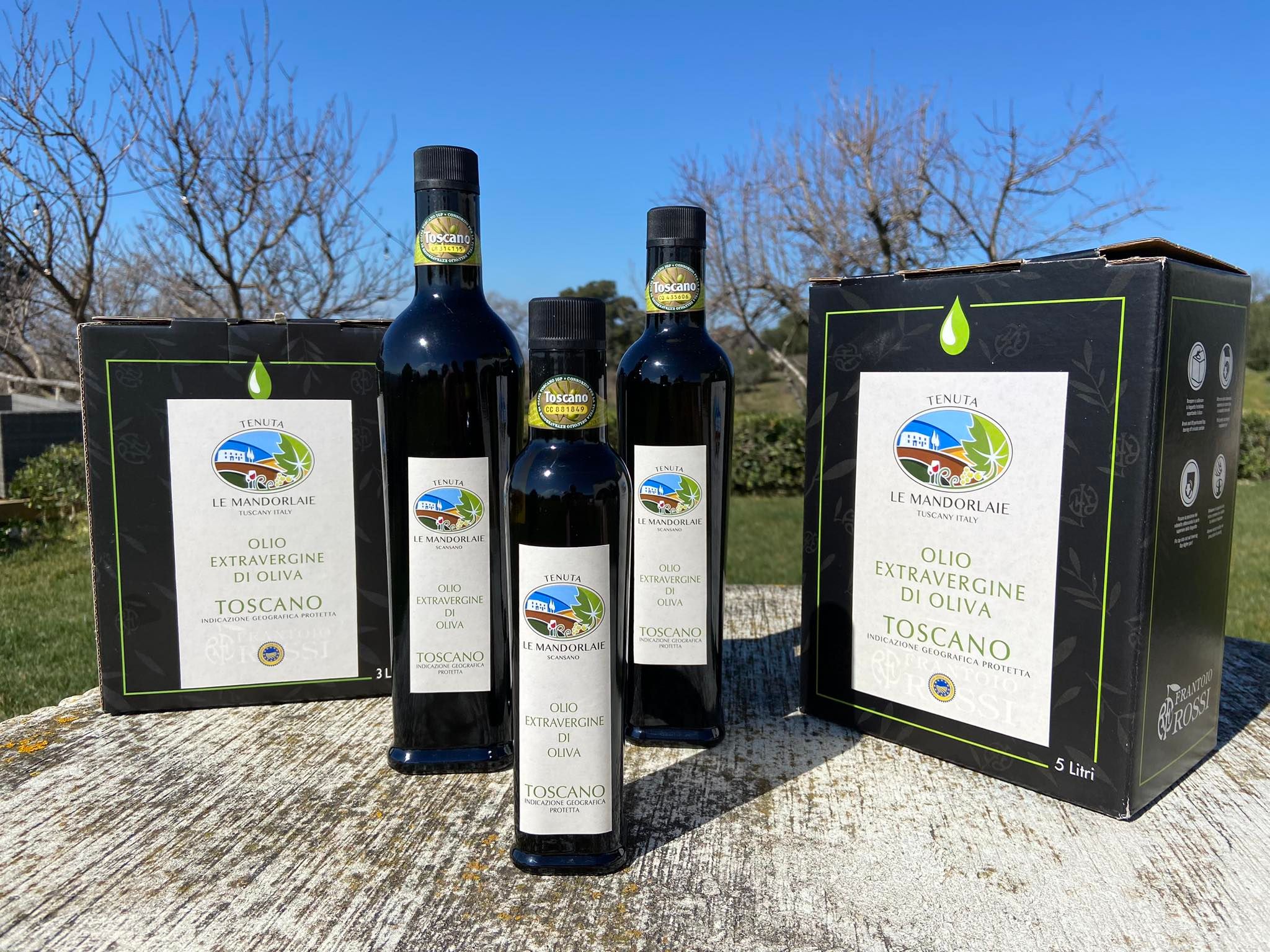 Extra Virgin Olive oil from Tuscany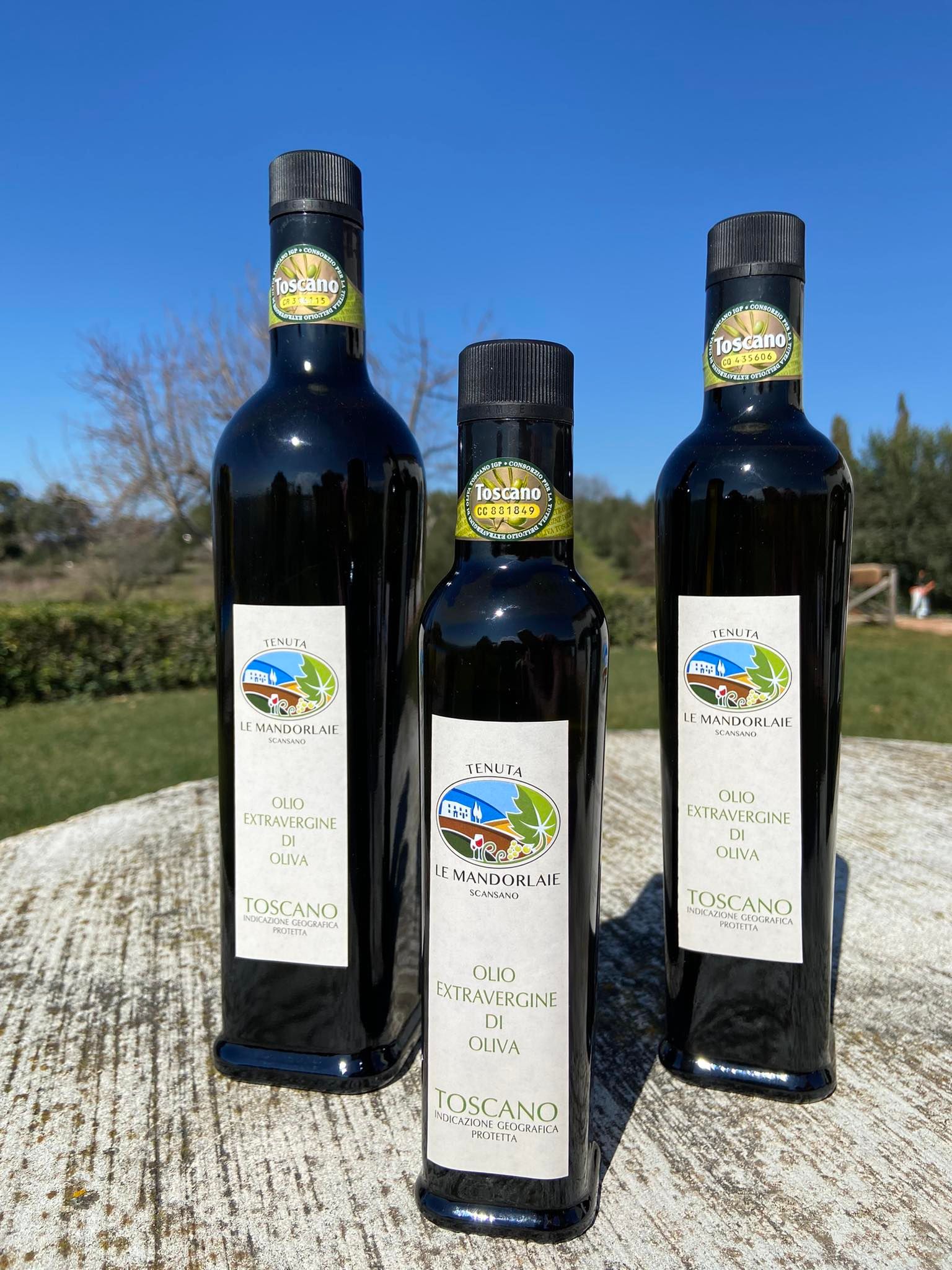 Welcome to Tenuta Le Mandorlaie website and our IGP Extra Virgin Olive Oil from Tuscany online store where you can confidently acquire the finest 100% Organic Italian extra virgin olive oil from Tuscany. We invite you to delve into the world of our exquisite Olive Oils, brimming with the evocative aromas, distinctive flavors, and captivating characteristics that stem from the rich Italian soil, the temperate climate, and the picturesque region of Maremma, Tuscany. With our secure online shopping platform and lightning-fast delivery options, the convenience of gifting our premium olive oils to your friends and family has never been more accessible.
Why Choose IGP Toscana Italian Olive Oil
Each of our offerings represents the pinnacle of our olive oil excellence hailing from our organic farm in Maremma Tuscany, and they bear the prestigious label of being "100% made in Italy." When you peruse our extensive range, you can rest assured that you are embracing freshness and uncompromising quality.
All the Best Italian Olive Oil IGP Toscana
Our commitment to providing you with the finest Italian olive oil from our organic farm is unwavering, and we've made it effortlessly convenient to acquire these treasures online. Every product in our catalog is a testament to the authenticity of organic extra virgin olive oils, sourced exclusively from Italy. Regardless of whether you seek a petite bottle, a medium-sized container, a generous portion, or even commercial-sized quantities, our olive oils consistently deliver on their promise of excellence. We meticulously package and seal our products, ensuring their longevity, and we proudly employ recyclable materials as part of our sustainability initiatives.
100% Made in Italy
The heart of our operations lies in Italy, where each of our products is meticulously crafted, carefully milled, and artfully packaged. We are deeply committed to supporting the dedicated olive oil growers as they tirelessly work to cultivate and deliver the world's finest Extra Virgin Olive Oil. When you choose to purchase from us, you can be confident in the authenticity of our products. Each bottle bears a unique IGP identity number, allowing you to trace its origin back to our farm, where olives were lovingly nurtured, harvested, and transformed into liquid gold.
Buy Extra Virgin Olive Oil from Tuscany Direct from the Farm
In your quest for the finest olive oil, our online platform offers you a seamless experience when you decide to buy IGP Toscana olive oil directly from the source. We intimately know the journey of our olive oil, from the very trees that bear the fruit to the meticulous processing and bottling, right through to its use in our olive oil products. Our user-friendly online store ensures a secure transaction process, granting you the flexibility to send our products as thoughtful gifts or have them delivered directly to your doorstep. With our specially curated olive oil gift options, you can extend the experience of savoring the flavors and enjoying the health benefits of extra virgin olive oil to your friends and loved ones.
Learn More about How Olive Oil Is Made
For those who yearn to delve deeper into the art of olive oil production, our platform offers a wealth of knowledge. We present a variety of informative articles that cover the entire journey, from the nurturing of olive trees to the meticulous process of harvesting olives and transforming them into precious oil.
Cooking with IGP Extra Virgin Olive Oil Tuscany
The culinary world cherishes the delights of fresh, flavorful dishes that tantalize the palate. When you choose to cook with our high-quality extra virgin olive oils, you unlock a world of gastronomic possibilities. With countless olive varieties at your disposal, along with an array of extra virgin olive oil blends and infused IGP extra virgin olive oils, you have the freedom to select the one that perfectly complements your culinary vision. Whether you crave the fruity essence or the pleasantly bitter notes that only come from the freshness of olives brimming with remarkable nutrients, our olive oils offer a palette of possibilities for your culinary creations.
Frying with Extra Virgin Olive Oil: Debunking the Myth
Recent research has dispelled the myth surrounding frying and cooking with extra virgin olive oil. It has been scientifically established that cooking with extra virgin olive oil does not diminish its natural, health-enhancing components. As long as the oil is not subjected to the smoke point, where it begins to burn, all the inherent health benefits of olive oil remain intact. This revelation ensures that you can confidently employ extra virgin olive oil in your cooking endeavors without compromising on its nutritional value.
Become an Olive Oil Sommelier
For those who aspire to become connoisseurs of olive oil, we provide a gateway to a wealth of information. Through our Olive Oil tasting kit, we offer you the tools and knowledge to truly grasp and appreciate the nuanced textures, captivating aromas, and rich flavors of extra virgin olive oil. You can embark on a delightful learning journey, experiencing the world of olive oil with friends, family, or loved ones while savoring its myriad tastes. Order our Olive oil tasting sommelier kit today, and embark on a flavorful and educational adventure.
New Harvest Extra Virgin Olive Oil Tuscany
Are you in search of the latest harvest of IGP extra virgin olive oil Tuscany? Look no further. We proudly present the crème de la crème of the most recent olive harvest. Immerse yourself in the unparalleled freshness and delectable flavors that only our exceptional extra virgin olive oil can provide.
How Long Does Extra Virgin Olive Oil from Tuscany Last?
The longevity and taste profile of olive oil are influenced by two critical factors: heat and light. When exposed to excessive heat and light, olive oil's sensory qualities, including its flavor, can diminish. This loss results in a reduction of the cherished peppery notes and the characteristic freshness of olives that we all hold dear. Rest assured, we take great care to ensure that all our olive oil products arrive at your doorstep in impeccable condition. For optimal storage after purchase, we recommend a cool, dark environment that preserves the integrity of your prized extra virgin olive oil Tuscany.
Organic Olive Oil Only
Our unwavering commitment to quality extends to the very roots of our olive trees. We guarantee that all our extra virgin olive oil is crafted from olives cultivated using organic methods. This pledge to organic farming practices not only safeguards the environment but also ensures that the olive oil you enjoy is free from synthetic chemicals, allowing you to savor nature's bounty in its purest form.
In conclusion, when you explore our extra virgin olive oil products you embark on a journey to discover the unparalleled excellence of 100% Organic Italian extra virgin olive oil from Tuscany, with a special focus on the rich heritage of Tuscany. We invite you to immerse yourself in the world of extra virgin olive oil, to experience its diverse flavors and health benefits, and to join us in celebrating the legacy of olive oil production in Italy. Through our online store, we make it convenient for you to procure this liquid gold, knowing that each bottle carries with it the essence of Tuscany and the commitment of generations to producing the finest olive oils. Your quest for the ultimate extra virgin olive oil begins here.
Our IGP Extra Virgin Olive Oil from Tuscany Products