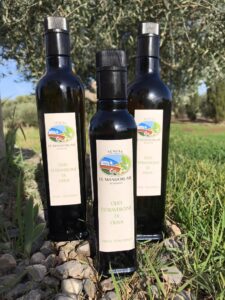 Are you looking for the best Italian olive oil, on our organic farm Tenuta Le Mandorlaie we work hard to bring you the very best product. We have over 1000 trees, although not all of the trees give us olives every year, but at the moment we are able to produce between 650 and 800 litres of extra virgin olive oil.
Our olive oil is cold pressed, within 6 hours of harvest, we work with a local olive mill that has invested in the very latest equipment and filtering tools which allows them to produce the very best olive oil, something that we focus on. We want to produce quality over quantity, for us its all about how the oil was created, and the end result, the flavour and taste.
We offer our olive oil in various sizes, from 250ml in a glass bottle, all the way to 5litres in a bag in box container. These containers ensure freshness and no air comes into contact with the olive oil.
You can visit our online store here