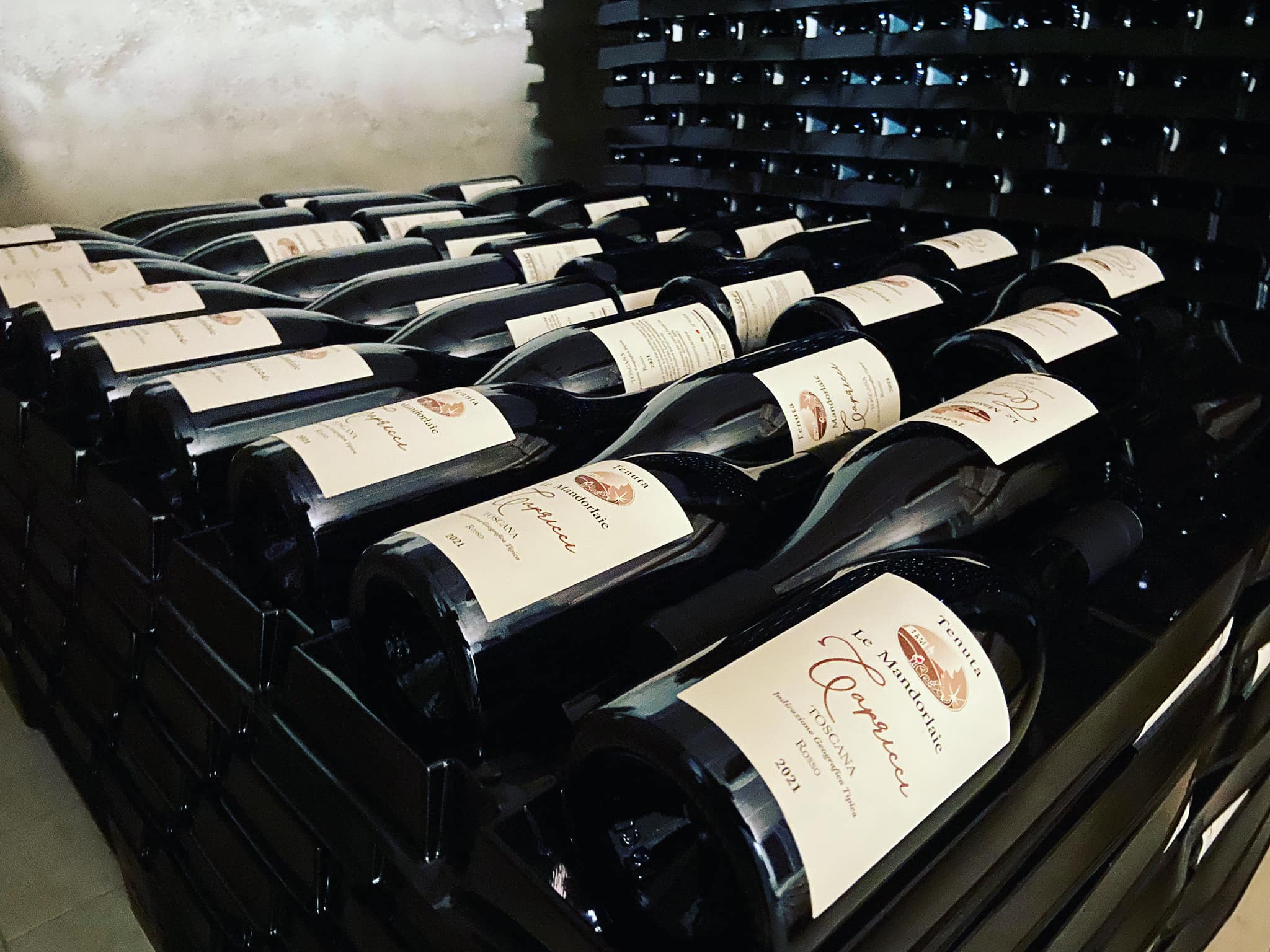 Tuscany wineries
Discover the Exquisite World of Tuscany Wineries
Unveil the Epitome of Tuscan Red Wine Excellence at Tenuta Le Mandorlaie's Online Store and embark on an unparalleled journey into the heart of Tuscany wineries through the enchanting doors of Tenuta Le Mandorlaie's online emporium. Here, the enigmatic allure of Capricci Toscana IGT Rosso awaits, standing as the pinnacle of Tuscan red wine artistry.
Prepare to be whisked away on a daily odyssey of unadulterated joy, as you acquaint your senses with this remarkable masterpiece, intricately fashioned within the hallowed halls of Tenuta Le Mandorlaie. Allow your palate to revel in the symphony of flavors that dance with every sip of this full-bodied opus, proudly holding aloft the flag of Tuscan winemaking excellence.
Dive headfirst into the extraordinary tale unfurling behind Capricci Toscana IGT Rosso. Painstakingly plucked from the prestigious Mandorlaie locality in Scansano, the grapes, a predominant 90% Sangiovese, harmonize eloquently with an ensemble of red and white grape varieties. A journey through this wine's making is a venture into meticulous fermentation, guided by the baton of controlled temperatures, and a mesmerizing ten-day waltz of skin maceration. Following these intricate steps, a twelve-month maturation transpires within the embrace of stainless steel vats, where this liquid treasure evolves. This evolution then continues for an additional six months within the cradle of French Oak barrels, culminating in a three-month symphony of refinement within the bottle. The crescendo of this symphony is best appreciated at an ideal 18°C, and it is elegantly presented in a 750ml format, beckoning you to relish its magnificence.
However, the story of Capricci Toscana IGT Rosso 2021 extends beyond craftsmanship; it resonates with a commitment to sustainable practices. The very essence of Tenuta Le Mandorlaie's devotion to the environment is etched in each bottle. The grapes, plucked from vines that have flourished for more than half a century in vineyards overlooking the sea near Scansano, echo the soul of their origin. This unique terroir, an alchemical blend of clay and sandy soil coupled with gentle rain, imparts an extraordinary flavor profile to the grapes, birthing a wine that epitomizes excellence of the highest order.
About Capricci Toscana IGT Rosso
In the grand tapestry of wines, IGT wines occasionally stand in the shadows of their DOC/DOCG counterparts. However, Capricci Toscana IGT Rosso 2021 is an audacious rebellion against such assumptions. It stands as a monument to innovation and mastery, unshackled from the chains of rigid regulations. This wine captures the essence of the land, enabling vintners to explore an array of grape varieties and pioneering techniques, thus birthing a wine that transcends expectations and stands as a true testament to Tuscany wineries' finest.
The secure online portal of Tenuta Le Mandorlaie invites you to embark on an unforgettable adventure with Capricci Toscana IGT Rosso. Discover an array of enticing offers that await, and allow your senses to be ensnared by the allure of this Tuscan masterpiece. Immerse yourself in the realm of Tenuta Le Mandorlaie, a venerated winery celebrated for crafting products that radiate unparalleled excellence, including their extraordinary olive oil.
The IGT classification, Indicazione Geografica Tipica, bestows Capricci Toscana IGT Rosso with a distinctive identity, representing its origin and granting winemakers the liberty to delve into uncharted realms of exploration and innovation. This wine personifies the harmonious union of tradition and ingenuity, showcasing the very best of Tuscany wineries.
Expand your journey through the offerings of Tenuta Le Mandorlaie and unveil the realm of their IGP extra virgin olive oil, adorned with the hallmark of Indicazione Geografica Protetta. This seal ensures the olive oil's origin from a precise geographic enclave and adherence to the most rigorous standards of production and quality.
Unleash your senses and surrender to the captivating symphony of flavors and aromas within Capricci Toscana IGT Rosso. Immerse yourself in the rich tapestry of Tenuta Le Mandorlaie's story, and experience the embodiment of Tuscan excellence like never before. Navigate the digital corridors and procure the epitome of Tuscan Red Wine. Through each sip, explore the rich legacy of Tuscany wineries, brought to you by Tenuta Le Mandorlaie.
Our IGT Toscana Wine Products