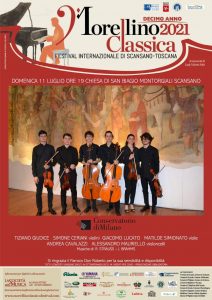 If you are a lover of music, then when you are in Tuscany the series of concerts organised that make up the Morellino Classica Festival Internazionale di Scansano should definitely be on your list of what to do in Tuscany. This year 2021 is the 10th year of the festival, it has been delivering incredible indoor and outdoor concerts during the summer months, and through to new years evening in locations that can only be described as stunning.
Incredible artists
The artists come from a variety of countries, European from further afield, from quartets, opera singers, grands pianists, brass, guitar and harp, we have attended amazing concerts that never fail to move us, with outdoor amphitheater, churches, halls and courtyard locations that never fail to highlight the musicians talents and the concert experience.
You can see the 2021 concert programme on the official website. You can also see more information on the organisers of the concerts, including details on the Direttore Artistico Pietro Bonfilio and the Direttore Responsabile Antonio Bonfilio 
The effort put together to get this musical event to us is mastered by Mr. Antonio Bonifilio, who is the direttore responsabile working hard all year to ensure the events are available to as many of us as possible.
How to attend the concerts
If you are planning on staying with us in Maremma at Tenuta Le Mandorlaie during the summer months, we would recommend attending one or more concerts, all set in such beautiful locations, the nights out are always very special.
You can book either via the official festival facebook page here, or using the details on the official website