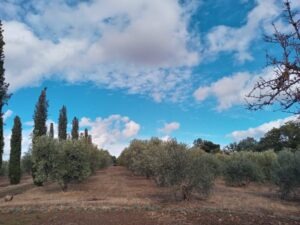 The olive groves at Tenuta Le Mandoraie are a really special place, trees that have stood the test of time, the seasons and every year after pruning after being provided with an organic environment that keeps healthy they deliver an incredible bounty of beautiful olives ready to be used in dishes, preserved or made into our special organic extra virgin olive oil.
Dinner in the Olive grove
We offer you the chance to walk through the olive groves, learn about our cultivation and pruning techniques and get to really understand the importance of olive tress in our environment, we then site down to an incredible meal together under the Maremma sky, we serve a delicious menu of food created at home using only the freshest of local ingredients and as the sun sets you can enjoy local wines and experience the magic that is the natural aura of Maremma.
We look forward to seeing you at Tenuta Le Mandorlaie, we are sure you will enjoy our Oleotourism Olive grove experience.