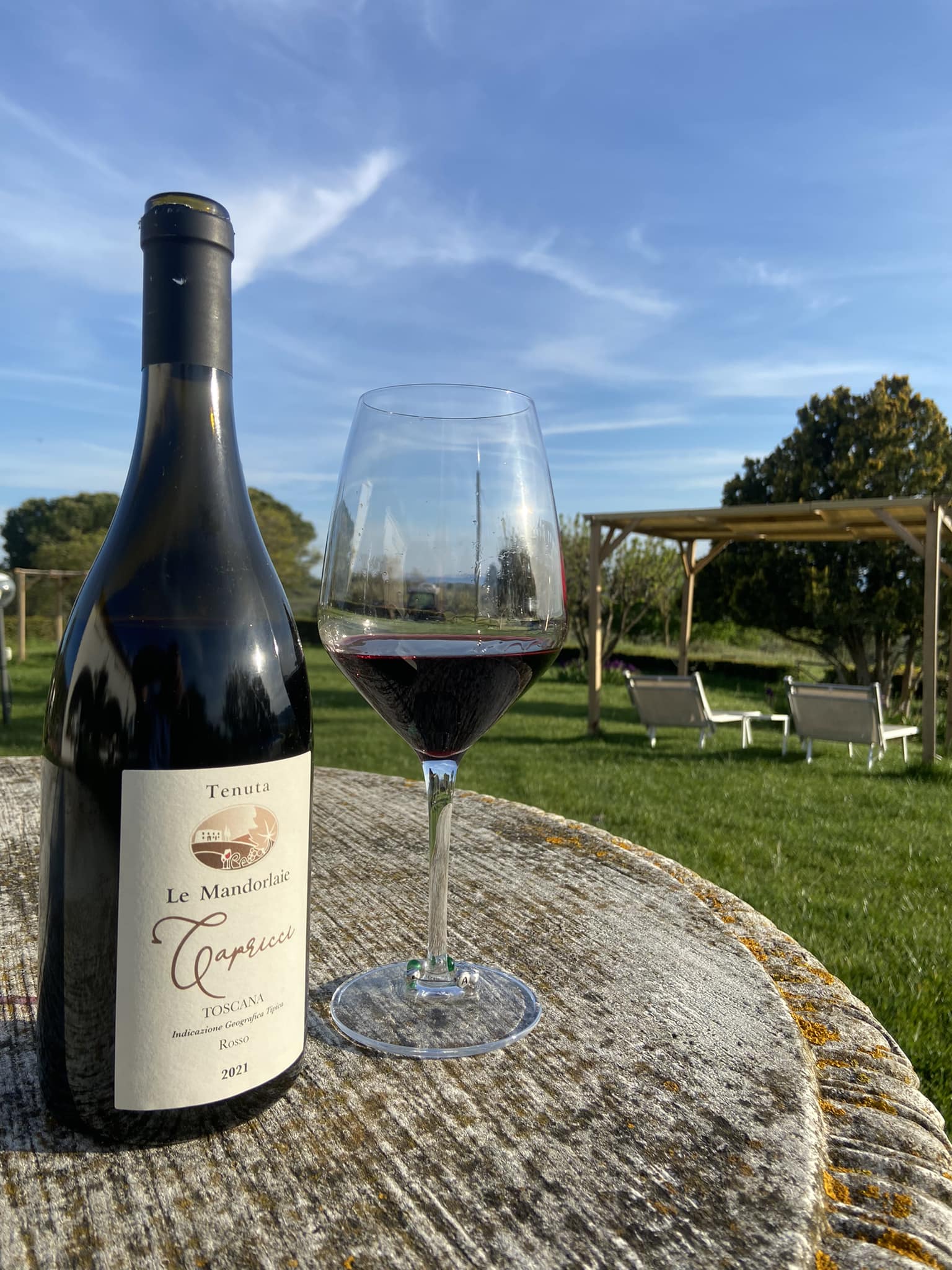 Discover the Best Tuscan Red Wine at Tenuta Le Mandorlaie

Experience the Best Tuscan Red Wine at Tenuta Le Mandorlaie's Online Shop
Experience the unrivaled allure of Capricci Toscana IGT Rosso, the pinnacle of Tuscan red wine perfection. Embark on a daily journey of pure delight with this exceptional creation, meticulously crafted at Tenuta Le Mandorlaie. Indulge in the symphony of flavors that accompany each sip of this full-bodied masterpiece, which proudly represents the epitome of Tuscan winemaking.
Immerse yourself in the extraordinary process behind Capricci Toscana IGT Rosso. Carefully hand-harvested from the prestigious Mandorlaie locality in Scansano, the grapes, predominantly 90% Sangiovese, harmoniously blend with other red and white grape varieties. From fermentation at precisely controlled temperatures to ten days of skin maceration, this wine undergoes a twelve-month maturation in stainless steel vats. It is then nurtured for an additional six months in French Oak barrels, culminating in three months of refinement in the bottle. Served at an ideal temperature of 18°C, this exceptional creation is available in a 750ml format, ready to be savored.
Commitment to the environment
Capricci Toscana IGT Rosso 2021 is not only a testament to exceptional craftsmanship but also a celebration of sustainable practices. Tenuta Le Mandorlaie's commitment to the environment shines through in every bottle. The grapes, sourced from vines that have flourished for over five decades in vineyards overlooking the sea near Scansano, showcase the true essence of their birthplace. The unique terroir, with its blend of clay and sandy soil, combined with minimal rainfall, imparts an unparalleled flavor profile to the grapes, resulting in a wine of extraordinary quality.
While IGT wines are sometimes underestimated compared to their DOC/DOCG counterparts, Capricci Toscana IGT Rosso 2021 defies expectations. Freed from the constraints of strict regulations, this wine exemplifies innovation and excellence. It captures the true essence of the land, allowing winemakers to explore diverse grape varieties and winemaking techniques, resulting in a wine that is truly exceptional.
About Tenuta Le Mandorlaie's secure online shop
At Tenuta Le Mandorlaie's secure online shop, you can now embark on an unforgettable journey with Capricci Toscana IGT Rosso. Discover the great offers awaiting you and let your senses be captivated by the allure of this Tuscan masterpiece. Immerse yourself in the world of Tenuta Le Mandorlaie, a distinguished winery renowned for crafting products of unparalleled excellence, including their exceptional olive oil.
The IGT classification, Indicazione Geografica Tipica, bestows Capricci Toscana IGT Rosso with its unique identity, signifying its origin and granting winemakers the freedom to explore and innovate. This wine represents a harmonious marriage between tradition and innovation, showcasing the best of Tuscan winemaking.
Expand your exploration of Tenuta Le Mandorlaie's offerings and discover their IGP extra virgin olive oil, which bears the mark of Indicazione Geografica Protetta. This classification guarantees that the olive oil originates from a specific geographic area and adheres to the highest production methods and quality standards.
Unleash your senses and indulge in the captivating flavors and aromas of Capricci Toscana IGT Rosso. Dive into the rich world of Tenuta Le Mandorlaie and experience the essence of Tuscan excellence like never before.
Shop now at Tenuta Le Mandorlaie for the Best Tuscan Red Wine.
Our IGT Toscana Wine Products