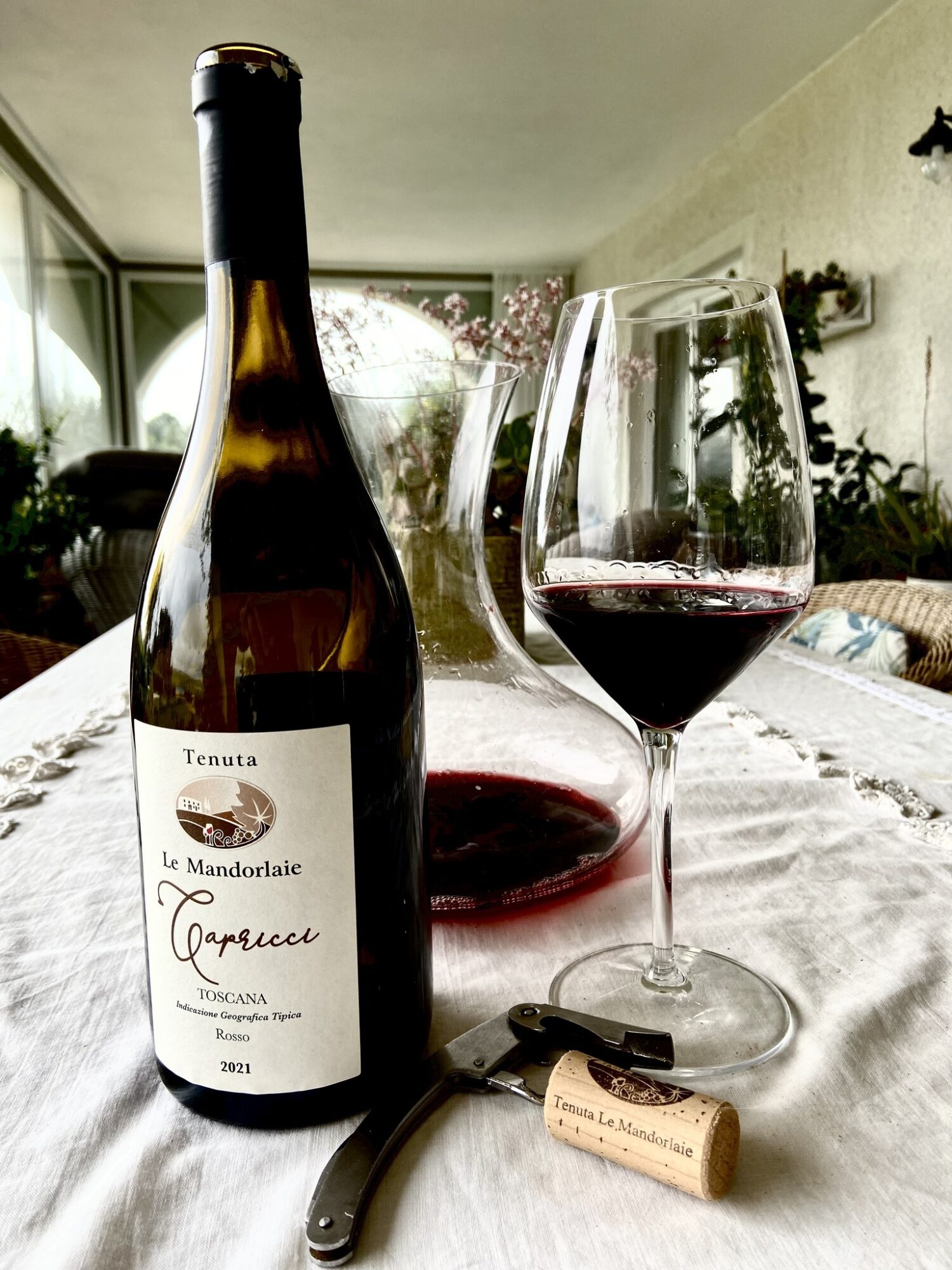 What type of Red wine is best?

Embrace the Art of Wine, Unveiling Capricci IGT Toscana Rosso's Timeless Brilliance
Dive into a realm of wine excellence and discover what type of red wine is best, and experience the extraordinary allure of Capricci IGT Toscana Rosso. This Italian red wine masterpiece redefines the boundaries of taste, captivating wine enthusiasts with its impeccable craftsmanship and remarkable qualities. Join us on an exploration of what makes Capricci IGT Toscana Rosso stand out among the rest:
A Symphony of Grape Varieties, so what type of Red wine is best?
Capricci IGT Toscana Rosso takes center stage with its captivating blend of 90% Sangiovese, the crown jewel of Italian grapes, and 10% other red and white varieties. This harmonious composition brings forth a vibrant and flavorful character that dances on the palate.
A Tapestry Woven by Nature
Embracing the land's gifts, Capricci IGT Toscana Rosso is born from the prestigious vineyards of Tenuta Le Mandorlaie in Scansano, Tuscany. Nestled within the breathtaking Maremma region, these vineyards bask in the perfect fusion of soil, climate, and topography, resulting in a wine that truly embodies the essence of its terroir.
Craftsmanship Perfected

Every step of Capricci's journey is infused with meticulous care and expertise. From the careful vineyard management and hand-harvesting of the grapes to the precise temperature-controlled fermentation and delicate aging process, our winemakers pour their passion into creating a wine of unparalleled quality.
An Artful Balance
Capricci IGT Toscana Rosso showcases a symphony of balance, where acidity, tannins, alcohol content, and fruit flavors intertwine flawlessly. Each sip reveals an exquisite equilibrium, painting a portrait of complexity and refinement that lingers on the palate long after the last drop.
A Wine That Evolves
Unlock the potential of time with Capricci IGT Toscana Rosso. This wine possesses the remarkable ability to age gracefully, developing layers of complexity and a velvety smoothness that only time can bestow. Indulge in the anticipation of a remarkable transformation, as this wine evolves into a true masterpiece.
A Flavorful Journey
Capricci IGT Toscana Rosso weaves a tapestry of flavors, inviting you to embark on a sensory adventure. Succulent cherries and blackberries intertwine with delicate spices, herbal nuances, and earthy undertones. The touch of French Oak adds depth and character, creating a captivating flavor profile that leaves a lasting impression.
Personal Discovery
Wine appreciation is an individual voyage, where personal preferences and experiences shape one's perception of greatness. While we believe Capricci IGT Toscana Rosso to be exceptional, we encourage you to embark on your own journey of exploration and discernment. Discover what makes this wine extraordinary to you, and let your taste buds be the guide.
The Timeless Essence
Capricci IGT Toscana Rosso is a testament to the ever-changing nature of wine. To stay updated on the latest vintages and availability, we invite you to connect with us directly. Unveil the enchantment of Capricci Toscana IGT Rosso by visiting our online store, where delightful offers await those seeking to embrace the art of wine.
Shop now at Tenuta Le Mandorlaie for Capricci Red Wine
Our IGT Toscana Wine Products