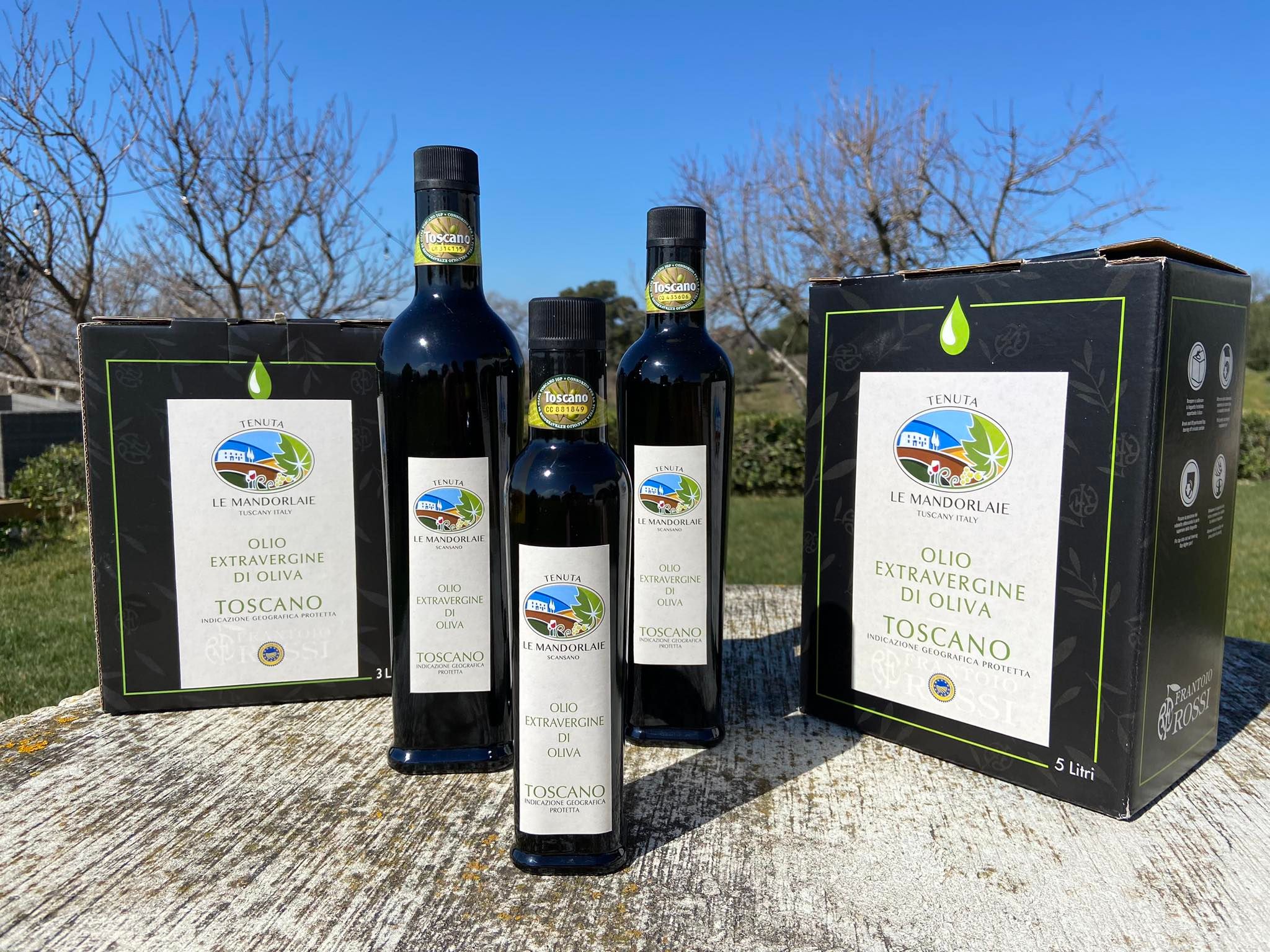 Italian Olive Oil online
Ready to buy the best Italian olive oil online
Step into the captivating realm of Italian Olive Oil online through our IGP Tenuta Le Mandorlaie Olive Oil Toscana Online boutique. Here, your confidence in purchasing reaches new heights, as each bottle guarantees the finest 100% Organic Italian Extra Virgin Olive Oil.
Indulge in the sensory marvels of our Olive Oils, each resonating with the essence of the land, the temperature, and the unique geography of Maremma, Tuscany. With our secure shopping platform and express delivery choices, sharing the elegance of your purchase with friends and family becomes an effortless endeavor.
Buy our IGP Extra Virgin Olive Oil Toscana in our secure online store
Why opt for anything less when you can embrace the excellence of IGP Toscana Italian Olive Oil? Our expert tasters have curated an elite selection, encompassing the crème de la crème from Italy. These oils, all 100% 'Made in Italy', span from everyday culinary companions to tantalizing tasting kits, ensuring a constant stream of freshness and unparalleled quality.
Embark on an unprecedented journey to procure the epitome of Italian Olive Oil online. Our comprehensive collection unifies all our olive-based creations under one virtual roof, making the quest for the supreme Italian olive oil an experience of unparalleled ease. Every product is authenticated as an organic extra virgin olive oil, with origins exclusively from Italy. Whether your preference is a modest, medium, large, or trade-sized purchase, our oils are primed to exceed your expectations. We meticulously package and seal our products, guaranteeing their longevity while upholding our commitment to eco-friendly materials.
Tell me about 'Made in Italy' Italian olive oil online
The 'Made in Italy' distinction remains at the heart of our endeavor. From conception to milling and packaging, all our items are meticulously crafted within Italy's borders. Our dedication to supporting olive oil growers echoes through every purchase, as our products represent their collective strive for delivering the finest Extra Virgin Olive Oil on a global scale. With each product you choose, a unique IGP identity number provides a traceable link to our farm, where olives are nurtured and harvested.
Unlock the treasure trove of health benefits inherent in IGP Olive Oil Toscana. Delve into the fascinating world of monounsaturated fats, oleic acid, antioxidants, and antibacterial properties encapsulated in Extra Virgin Olive Oil. Integrating this liquid gold into your regular diet contributes to preventing heart attacks, reducing cholesterol levels, enhancing memory, aiding digestion, and preventing blood clotting.
Elevate your culinary pursuits by acquiring IGP Extra Virgin Olive Oil online. Our platform offers a seamless and secure shopping experience, allowing products to be sent as thoughtful gifts or directly to your doorstep. Explore our olive oil gift options, extending the delight of exceptional tastes and health benefits to your friends and loved ones.
Curious about the intricacies of olive oil production? Delve deeper into the journey of olives, from growth and care to the art of milling, through our informative articles. These insights illuminate the rich path of cultivating olives, harvesting techniques, and the transformation of olives into exquisite oil.
Experience the art of gastronomy with IGP Olive Oil Toscana. As enthusiasts of delectable flavors, we relish in the harmony of diverse olive varieties, exclusive extra virgin olive oil blends, and infused IGP oils. This mosaic of tastes, ranging from fruity undertones to pleasantly bitter notes, emanates from the raw vitality of olives, enriched with a profusion of nutrients.
You can fry with extra virgin olive oil
Dismiss the myths surrounding frying with extra virgin olive oil. Contemporary research substantiates that the natural health elements within olive oil remain unaffected during cooking, provided the oil avoids the smoke point. Hence, relish the holistic benefits of olive oil without compromise.
Embark on a journey to become an Olive Oil Sommelier with our curated offerings. Dive into a wealth of information and gain an intimate understanding of complex textures, aromas, and the flavor palette of extra virgin olive oil through our Olive Oil tasting kit. Elevate your comprehension of this remarkable product, all while reveling in a joyful learning experience with friends, family, or loved ones.
Indulge in the freshness of the latest harvest of IGP extra virgin olive oil. Our selection from the recent harvest promises an explosion of flavors that only the finest extra virgin olive oil can deliver.
Contemplate the longevity of Extra Virgin Olive Oil. Heat and light influence its taste and flavor profile. To preserve its peppery essence and the freshness cherished by all, store our olive oil products in a cool, dark area after purchase.
We champion purity in our olive oils. Every drop of our extra virgin olive oil is an assurance of organic methods of olive cultivation.
Our IGP Olive Oil Toscana products