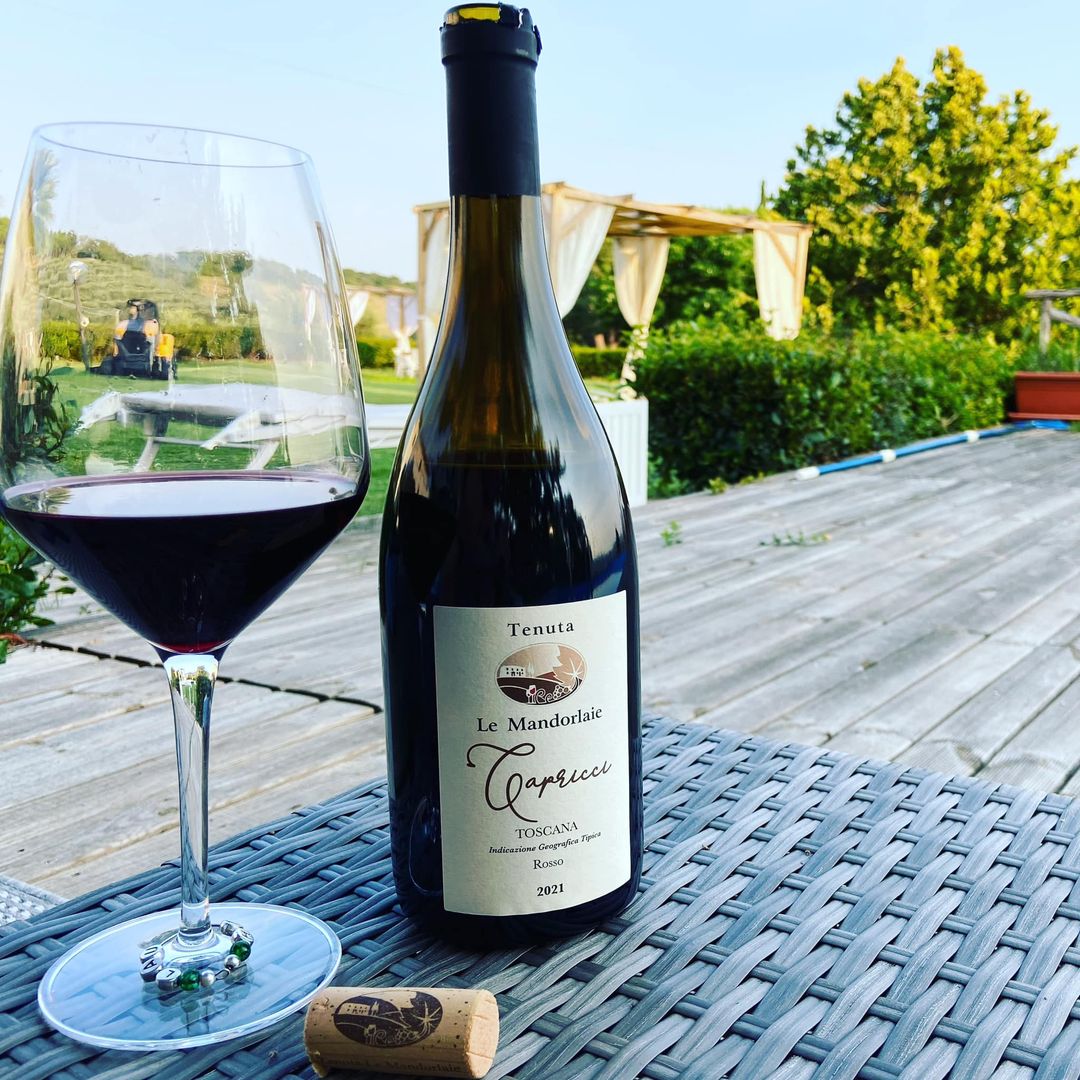 Italian Red wines from Maremma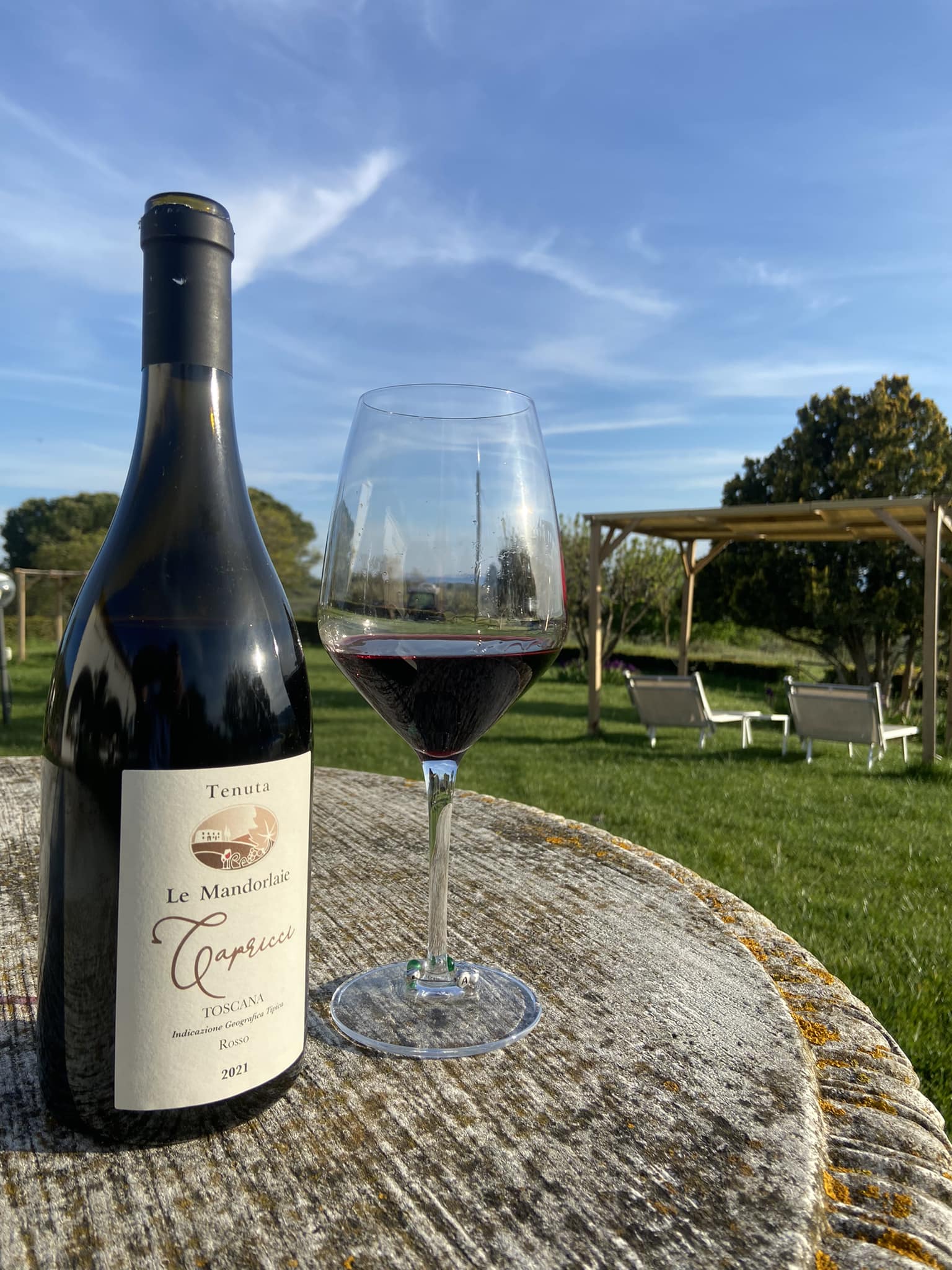 Indulge in the everyday splendor of Italian Red Wines from Maremma with Capricci IGT Toscana Rosso. Let this enchanting wine transport you to a realm of sensory delights, where each sip unveils a special experience unlike any other.
Immerse yourself in the captivating embrace of Capricci, a full-bodied masterpiece meticulously crafted in the heart of Scansano, Tuscany. This exquisite wine is a harmonious blend of 90% Sangiovese and 10% other red and white grapes, hand-harvested with utmost care from the breathtaking Mandorlaie locality.
Embarking on a journey of meticulous craftsmanship, Capricci IGT Toscana Rosso undergoes fermentation at a controlled temperature, accompanied by 10 days of skin maceration. It then matures for 12 months in stainless steel vats, followed by an enchanting dance of flavors in French Oak barrique for 6 months, and finally, it rests in the bottle for 3 months, allowing its essence to flourish.
Rich, full bodied, perfect for pasta
Elevating the senses to new heights, Capricci IGT Toscana Rosso unveils its exceptional character with a rich structure that commands attention. Its velvety texture and full-bodied nature make it the perfect companion for indulging in antipasti of crostini and cold cuts or savoring pasta dishes adorned with sumptuous sauces.
To fully appreciate the nuances of Capricci IGT Toscana Rosso, serve it at a temperature of 18°C, allowing the wine to reveal its intricate layers of flavor and aroma. Available in a 750ml format, it invites you to share in the joy of its discovery with friends and loved ones.
At Tenuta Le Mandorlaie, the renowned Tuscan winery behind Capricci, a commitment to sustainable practices and reverence for the environment are paramount. The vineyards, graced by vines over 50 years old, offer a vista that stretches towards the sea, a gentle reminder of the extraordinary terroir from which this exceptional wine originates.
Situated at an altitude of 350m above sea level, the vineyard's clay and sandy soil, coupled with the region's modest rainfall, bestow upon the grapes a remarkable flavor profile. With a deep-rooted connection to the land, Capricci IGT Toscana Rosso embodies the essence of Maremma, captivating the senses with its unique taste and undeniable charm.
Enjoy the best of IGT Classification wines from Maremma
In the realm of Italian red wines, Capricci IGT Toscana Rosso stands tall as a testament to the beauty of the IGT classification. Liberated from the constraints of DOC/DOCG regulations, this wine represents the pinnacle of innovation and artistry. It embodies the winemaker's vision, unrestricted by conventions, resulting in a wine that leaves an indelible mark on the palate.
To embark on your own journey of exploration, Tenuta Le Mandorlaie welcomes you to discover Capricci and other remarkable creations directly from their vineyard. Visit their secure online shop, where the allure of Capricci awaits, promising a taste of Maremma's finest.
Experience the allure of Capricci Red Wine at Tenuta Le Mandorlaie's online shop. Step into a world where the exceptional is within reach, and let your taste buds savor the captivating essence of Italian Red Wines from Maremma. Shop now and unlock a realm of extraordinary flavors that await your indulgence.
Our IGT Toscana Wine Products