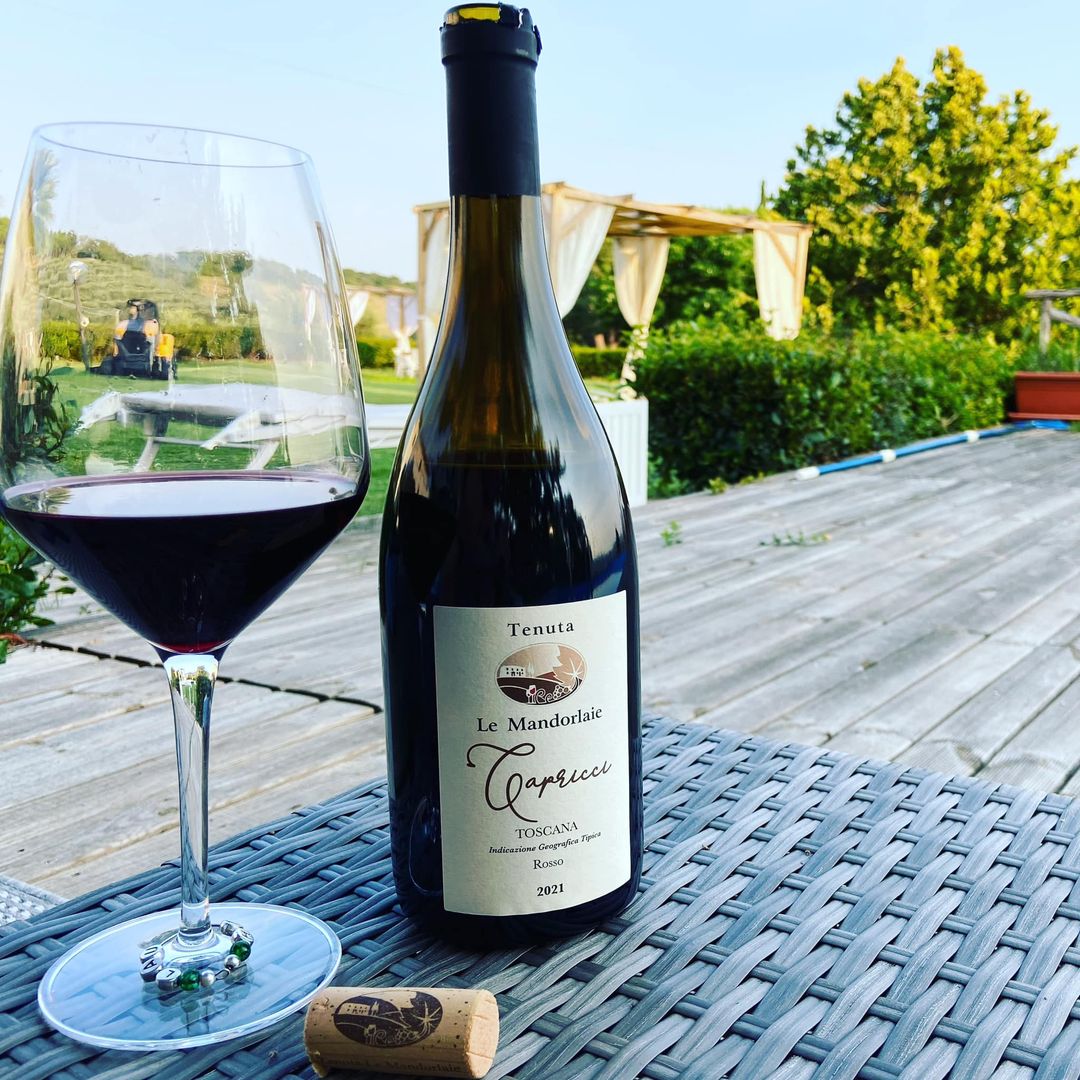 What does Sangiovese wine taste like?

So what does Sangiovese wine taste like?
Discover the enchanting flavors of Capricci IGT Toscana Rosso. This full-bodied wine, made predominantly with 90% Sangiovese grapes and complemented by 10% other red and white grape varieties, offers a unique taste experience that will captivate your senses.
The grapes used in Capricci are hand-harvested with meticulous bunch selection from the Mandorlaie locality in Scansano, Tuscany. The terroir of this vineyard, characterized by clay and sandy soil at an altitude of 350m above sea level, imparts distinct qualities to the grapes. With minimal rainfall in the Maremma region, the grapes develop enhanced flavors, resulting in a wine that truly reflects its origins.
After fermentation at a controlled temperature and a 10-day maceration period with the grape skins, Capricci IGT Toscana Rosso is aged for 12 months in stainless steel vats, followed by an additional 6 months in French Oak barrels and 3 months in the bottle. This careful aging process contributes to the wine's full-bodied nature and strong structure, making it a perfect accompaniment to antipasti, pasta dishes with sauces, crostini, and cold cuts.
When serving Capricci IGT Toscana Rosso, ensure a temperature of 18°C for optimal enjoyment. The wine comes in a 750ml format, inviting you to savor every drop of its exceptional taste.
Capricci, an IGT Toscana Rosso
As an IGT Toscana Rosso wine, Capricci exemplifies the potential of wines within this classification. While IGT wines may not always carry the same perceived importance as DOC/DOCG wines, many exceptional Tuscan wines fall into the IGT category. This is due to the freedom that winemakers have in crafting their wines, unrestricted by the regulations governing DOC/DOCG status. Capricci Toscana IGT Rosso 2021 is a remarkable example of an IGT Toscana wine that is sure to impress.
If you wish to experience the allure of Capricci for yourself, you can conveniently purchase it directly from the vineyard, Tenuta Le Mandorlaie. Visit their secure online shop to explore the great offers available and embark on a journey of flavor and quality.
At Tenuta Le Mandorlaie, the production of Capricci IGT Toscana Rosso is complemented by their dedication to sustainable practices and their commitment to respecting the environment. This Tuscan winery and olive oil producer, located in the Scansano area of Tuscany, Italy, is renowned for their high-quality products. In addition to the exceptional IGT wines, Tenuta Le Mandorlaie also produces IGP extra virgin olive oil, both cherished for their outstanding quality and delightful flavors.
In summary, the exceptional Capricci IGT Toscana Rosso wine showcases the captivating flavors of Sangiovese grapes. Crafted with care and precision, this wine reflects the unique terroir of Scansano, Tuscany. From the vitality of the grapes to the artisanal winemaking techniques employed, Capricci embodies a harmonious symphony of taste and balance. Embark on a personal journey of discovery and explore the enchantment of Capricci Toscana IGT Rosso for yourself.
Our IGT Toscana Wine Products