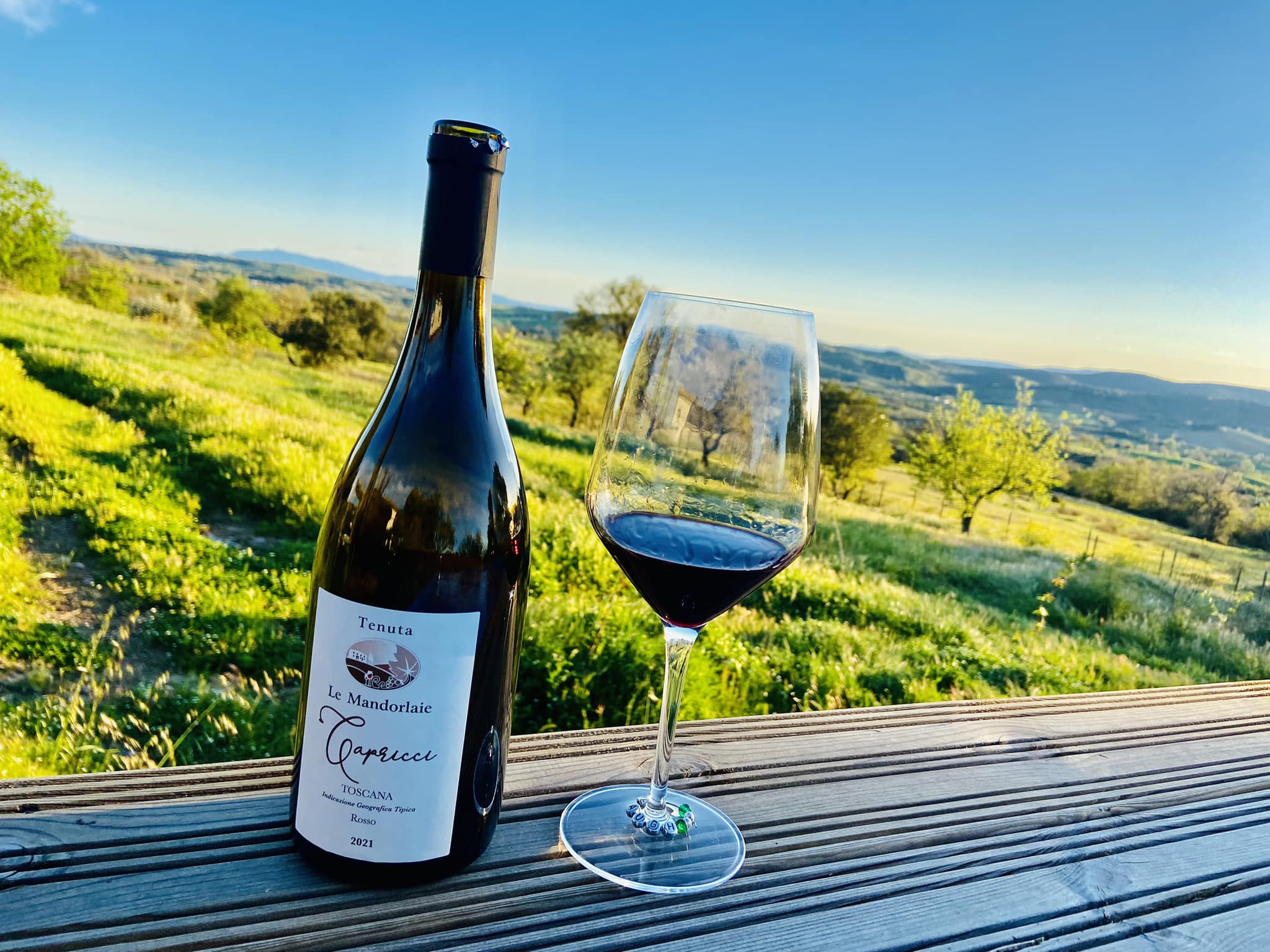 Maremma wine region
Exploring the Marvels of Maremma Wine Region
Embark on a journey to the heart of the enchanting Maremma wine region with every sip of Capricci IGT Toscana Rosso. Elevate your daily moments into extraordinary experiences with this remarkable creation, handcrafted to perfection.
A Symphony of Flavors: The Essence of Capricci
Capricci isn't just a wine; it's an embodiment of passion and craftsmanship. Comprising 90% Sangiovese and 10% other red and white grapes, each bunch is meticulously hand-harvested from the Mandorlaie locality in Scansano, Tuscany. The magic begins with fermentation at controlled temperatures and a 10-day maceration with the skins, infusing the wine with a symphony of flavors. This orchestration culminates in 12 months of aging in stainless steel vats, followed by an elegant embrace of six months in French Oak barrels and a final three-month refinement in the bottle. Delight in its full-bodied charm, served at 18°C and relished in a 750ml format.
A Testament to Terroir: Nurturing Excellence in Maremma Wine Region
The soul of Capricci is intricately linked to the terroir of Maremma wine region. The vines, over 50 years old, flourish in the Mandorlaie locality, blessed with a view of the sea and a short distance from the historic town of Scansano. The vineyard's terroir, a blend of clay and sandy soil, nestled 350 meters above sea level, lends a unique touch to the grapes. The region's minimal rainfall results in grapes that carry an intensified flavor profile, setting the stage for Capricci's distinctive taste.
Crafting Excellence: A Labor of Love and Dedication
Crafted with care, Capricci Toscana IGT Rosso 2021 is a testament to sustainability and respect for the environment. The wine-making process meticulously echoes the essence of its origins. Fermented at a precise 25°C temperature with a 10-day maceration with skins, the wine matures for 12 months in stainless steel vats. This journey continues with six months of gentle aging in French Oak barrels, adding layers of complexity, before a harmonious three-month period in the bottle. The result is a wine with a robust structure, perfect for pairing with antipasti, pasta dishes, and more.
Embracing the Freedom: Capricci and the IGT Category
Dive into the world of Italian wine classifications and discover the hidden gems within the IGT category. While Toscana IGT Rosso wines might not always boast the prestigious DOC/DOCG label, many exceptional Tuscan wines are found within this category. This freedom allows winemakers to push boundaries and create wines that are unique expressions of the region. Capricci Toscana IGT Rosso 2021 proudly stands as a remarkable example of the brilliance that the IGT Maremma wine region can produce.
A Direct Path to Delight: Purchase Capricci From Tenuta Le Mandorlaie
The journey to experiencing Capricci is just a click away. Directly from the Maremma winery, Tenuta Le Mandorlaie, you can access this masterpiece. Explore their secure online shop, a portal to the world of Capricci's enchanting offers. It's an invitation to savor the excellence of Maremma wine region in every sip.
Tenuta Le Mandorlaie: Crafting Excellence
Tenuta Le Mandorlaie is more than a winery; it's a dedication to producing exceptional products that reflect the essence of the Maremma wine region. With IGT wines and IGP extra virgin olive oil in their repertoire, their commitment to quality and flavor is unmatched. IGT, which stands for Indicazione Geografica Tipica, signifies wines with a distinctive origin, allowing creativity to flourish while preserving tradition.
Unveiling the Essence of Maremma Wine Region: Capricci's Terroir
The essence of Capricci IGT Toscana Rosso is intertwined with the soul of Maremma wine region. From its birth in the Mandorlaie locality to the tantalizing notes it carries, every sip echoes the whispers of the region's terroir. Grapes nurtured by the mix of clay and sandy soil, kissed by the sea breeze, come together to craft a wine that is a genuine reflection of its birthplace.
A Taste of Tradition: Elevating Moments with Capricci
Savor the legacy of Maremma wine region in every glass of Capricci IGT Toscana Rosso. Whether it's a special occasion or an ordinary day turned extraordinary, this wine promises an experience that transcends boundaries. Allow the symphony of flavors to dance on your palate and take you on a journey through the captivating Maremma wine region.
Capricci IGT Toscana Rosso
Capricci IGT Toscana Rosso is more than just a wine; it's an ode to the Maremma wine region. From its inception to its carefully orchestrated creation, it encapsulates the essence of the land. With every pour, you're transported to the scenic beauty of Tuscany, to a land where tradition meets innovation, and the grapes tell tales of their journey from vine to glass.
Our IGT Toscana Wine Products