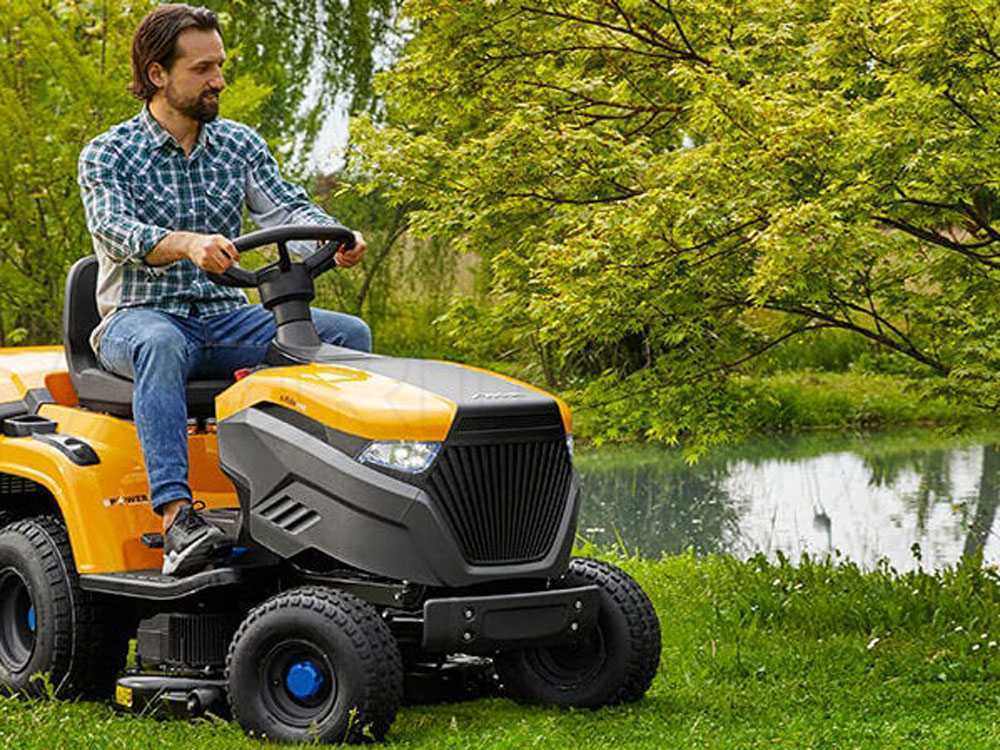 Stiga e-ride s300 review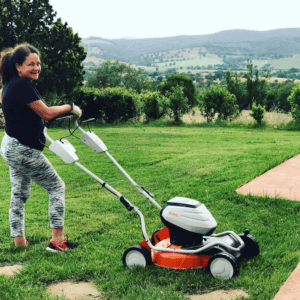 Welcome to our Stiga e-ride S300 review, for the first three years of our time at Tenuta Le Mandorlaie we have got by using a hand pushed mower from Stihl, it is battery operated and a mulching mower, it uses the same batteries as our Stihl strimmer and Stihl chainsaw, all in all we are still very happy with the mower and its performance, but mowing takes me around 3 hours and although I enjoy the exercise saving me time would be a great thing.
So when it came to choosing a ride on mower, we had several option but were in the end led by the fact that we will soon be installing a solar panel system giving us, we hope, all the electricity we need, thus allowing us to look at making other tools electric, read on to get more info on our choice, here comes our Stiga e-ride S300 review.
As we had a certain price range I knew that getting something full professional that would last all day was out of our budget, but we came across the Stiga e-ride S300 which is in effect a mid range cost machine, it would give us what we needed without paying for extra battery time and features we did not need.
Ease of Use, what do we think of the S300 overall
Starting this s300 is simple, a turn of the ignition style key and then a press of the power button on the intuitive dashboard, yes, its that simple to get moving, to get the cutting blades operating just push the 'start cutters' button, using your right foot, ease some pressure onto the accelerator and off we go.
The blade height is adjustable on the move and is a manually operated function, not electronically activated by motor, the movement is slightly stiff but usable, maybe it will get easier over time.
Steering on the s300 is easy if a bit hard at slower speeds, its turning circle is tight, easily dealing with lawn edges and running along edges is east as the deck runs just out slightly past the wheels, all in all the cutting function is great and it mulches well. I tried to use the side eject but the grass cuttings were large and ended up in rows on the lawn, looking like they needed to be bailed like straw in a field, that said when mulching you can hear the motors working hard to recut the grass cuttings.
So do we think we chose the right electric mower?
Only time will tell but from the first few uses and tests its saving time and energy allowing us to do other work (we relax once the harvests are in!)
We are happy with its size, recharging time, speed and mowing capability, so yes, we are happy with our choice. Our usual usage is the lawns around the house, these normally take around 20 minutes to mow, and then it is onto the more rough areas of gardens further away from the house, these are handled easily by the s300. We are also using the s300 to mow between the lavender rows and the small peach, apple and pear orchards that we have.

Specifications
48v 30Ah lithium battery system

Side discharge and mulching function

Intuitive dashboard console

7 different heights ranging from 25 – 80mm

98cm twin bladed cutting deck

seat and steering wheel can be adjustable to suit the individual user

electric blade engagement

Run time: 60 minutes or 3500m2.

Charge time: 6 hours *There is a Stiga fast charger available to purchase separately which will recharge the battery in 2 hours, Includes standard battery charger

Traction: Rear-wheel drive

noise level when cutting is 86.54 dB(A)

Dimensions are L 172cm, W 120cm, H 110cm

Manufacturer warranty is 3 years