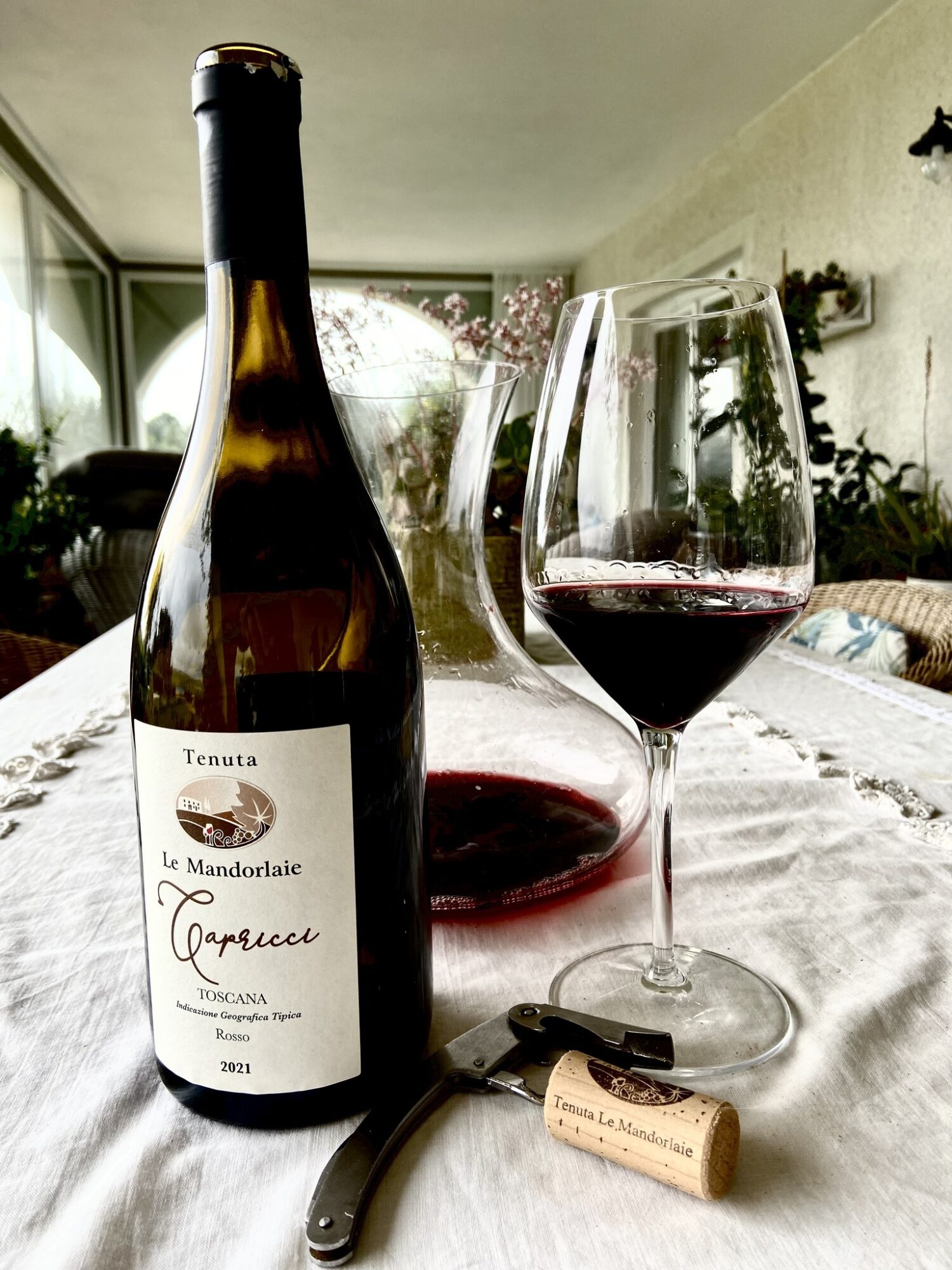 Sustainable Organic vineyard Tuscany with accommodation

Our sustainable Organic vineyard in Maremma, Tuscany
Experience the enchantment of Tenuta Le Mandorlaie, a sustainable organic vineyard nestled in the heart of Tuscany. This idyllic estate not only produces exceptional IGT wines and IGP extra virgin olive oil, but also offers comfortable accommodation for those seeking an immersive and eco-conscious getaway.
Tenuta Le Mandorlaie, located in the scenic Scansano area of Tuscany, prides itself on crafting high-quality products that reflect the unique terroir of the region. Their IGT wines, bearing the coveted Indicazione Geografica Tipica classification, showcase the ingenuity and artistry of their winemaking process.
Unlike wines bound by the strict regulations of DOC or DOCG classifications, Tenuta Le Mandorlaie's IGT wines are allowed greater freedom and innovation, resulting in truly remarkable flavors.
One standout creation is their captivating Capricci IGT Toscana Rosso 2021. This full-bodied wine is meticulously crafted from grapes nurtured on vines that have gracefully aged over 50 years in the breathtaking Mandorlaie locality of Scansano.
A harmonious blend of 90% Sangiovese grapes and 10% other red and white varieties, this wine undergoes a carefully controlled fermentation process with 10 days of skin maceration. It then matures for 12 months in stainless steel vats, followed by an additional 9 months in French Oak barrels and a final 3 months in the bottle. The result is a wine with a robust structure and a distinct flavor profile that pays homage to the region's magnificent terroir.
IGT Wine, IGP Olive oil and luxury accomodation
In addition to their exquisite wines, Tenuta Le Mandorlaie produces outstanding IGP extra virgin olive oil. Following the guidelines of the Indicazione Geografica Protetta classification, their olive oil is meticulously crafted from hand-harvested olives grown on their estate in Scansano.
With great care and respect for the environment, the olives are cold-pressed within 24 hours of being picked, ensuring that the oil maintains its exceptional quality and vibrant flavors. The result is a rich and aromatic extra virgin olive oil that perfectly encapsulates the essence of the region.
At Tenuta Le Mandorlaie, sustainability is at the core of their operations. They prioritize eco-friendly practices that not only preserve the land but also contribute to the overall well-being of the environment. From their meticulous cultivation methods to their commitment to minimal intervention winemaking, every aspect of their operation reflects a deep respect for nature.
Immerse yourself in the enchanting beauty of the Tuscan countryside and indulge in the unique offerings of Tenuta Le Mandorlaie. Whether you choose to stay in their cozy accommodations, savor their remarkable wines, or delight in their exquisite olive oil, you'll be treated to an unforgettable experience that celebrates the harmony between nature, sustainability, and the art of winemaking.