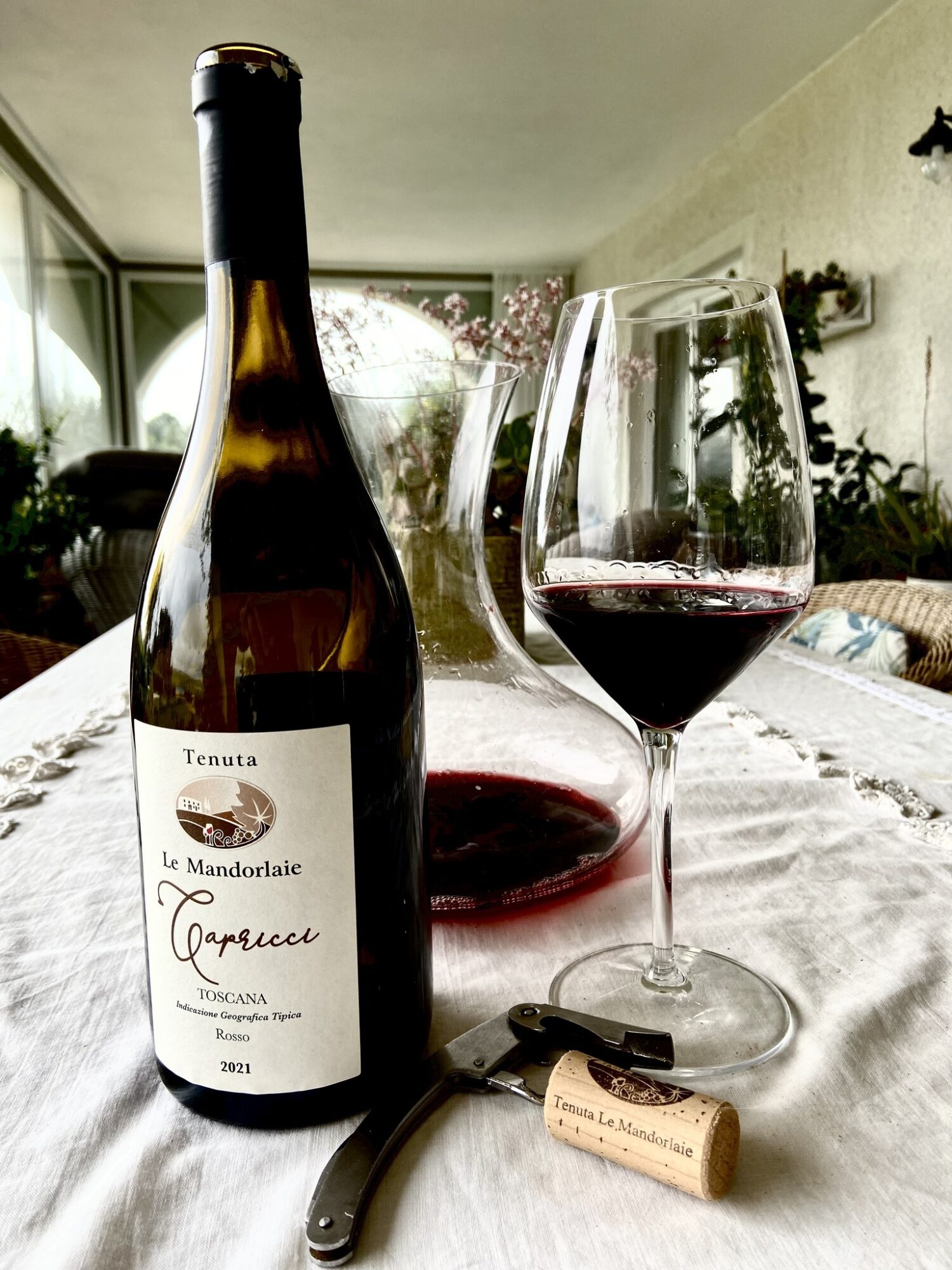 Tuscan organic red wine direct from the vineyard
Indulge in the Essence of Tuscan Organic Red Wine Direct from the Vineyard
Indulge in the extraordinary delights of Capricci IGT Toscana Rosso, a wine that offers a truly special experience each and every day. This Tuscan organic red wine, sourced directly from the vineyard, is a full-bodied masterpiece crafted with care and precision. Made predominantly from 90% Sangiovese grapes, complemented by a blend of other red and white varieties, it embodies the essence of the Mandorlaie locality in Scansano, Tuscany.
The journey begins with hand-harvested grapes from vines that have matured for over 50 years, situated in the breathtaking backdrop of Scansano, within sight of the sea and near the historic town and gateway to the Tuscan archipelago, Porto Santo Stefano. The vineyard's unique terroir, consisting of clay and sandy soil at an elevation of 350m above sea level, lends a distinctive character to the grapes, resulting in an intensified flavor profile.
The winemaking process
Meticulous attention is given to the winemaking process, ensuring that Capricci IGT Toscana Rosso reaches its full potential. Fermented at a controlled temperature with an extended 10 days of maceration with the grape skins, this wine is then aged for 12 months in stainless steel vats, followed by an additional 6 months in French Oak barrels and 3 months in the bottle. The result is a wine with a robust structure and full-bodied richness, perfectly suited for pairing with antipasti, crostini, cold cuts, and pasta dishes with flavorful sauces. To fully appreciate its splendor, serve Capricci IGT Toscana Rosso at an ideal temperature of 18°C in a 750ml format.
Capricci IGT Toscana Rosso stands proudly within the IGT classification, which allows winemakers the freedom to craft exceptional wines that embody the spirit of innovation and quality. Unrestrained by the regulations governing DOC/DOCG wines, Capricci showcases the expertise and artistry of the winemakers at Tenuta Le Mandorlaie.
Capricci, Tuscan organic red wine direct from the vineyard
Now, you have the opportunity to acquire Capricci IGT Toscana Rosso directly from the vineyard, Tenuta Le Mandorlaie. Explore their secure online shop and discover the great offers available to make this remarkable wine yours.
Tenuta Le Mandorlaie is a Tuscan winery and olive oil producer renowned for their commitment to creating high-quality products with a focus on sustainability and respect for the environment. In addition to their exquisite IGT wines, they also produce IGP extra virgin olive oil, both of which showcase the exceptional flavors of the region.
Delve into the captivating world of Tuscan organic red wine direct from the vineyard and savor the allure of Capricci IGT Toscana Rosso.
Visit the Tenuta Le Mandorlaie online shop now to experience the extraordinary.
Our IGT Toscana Wine Products