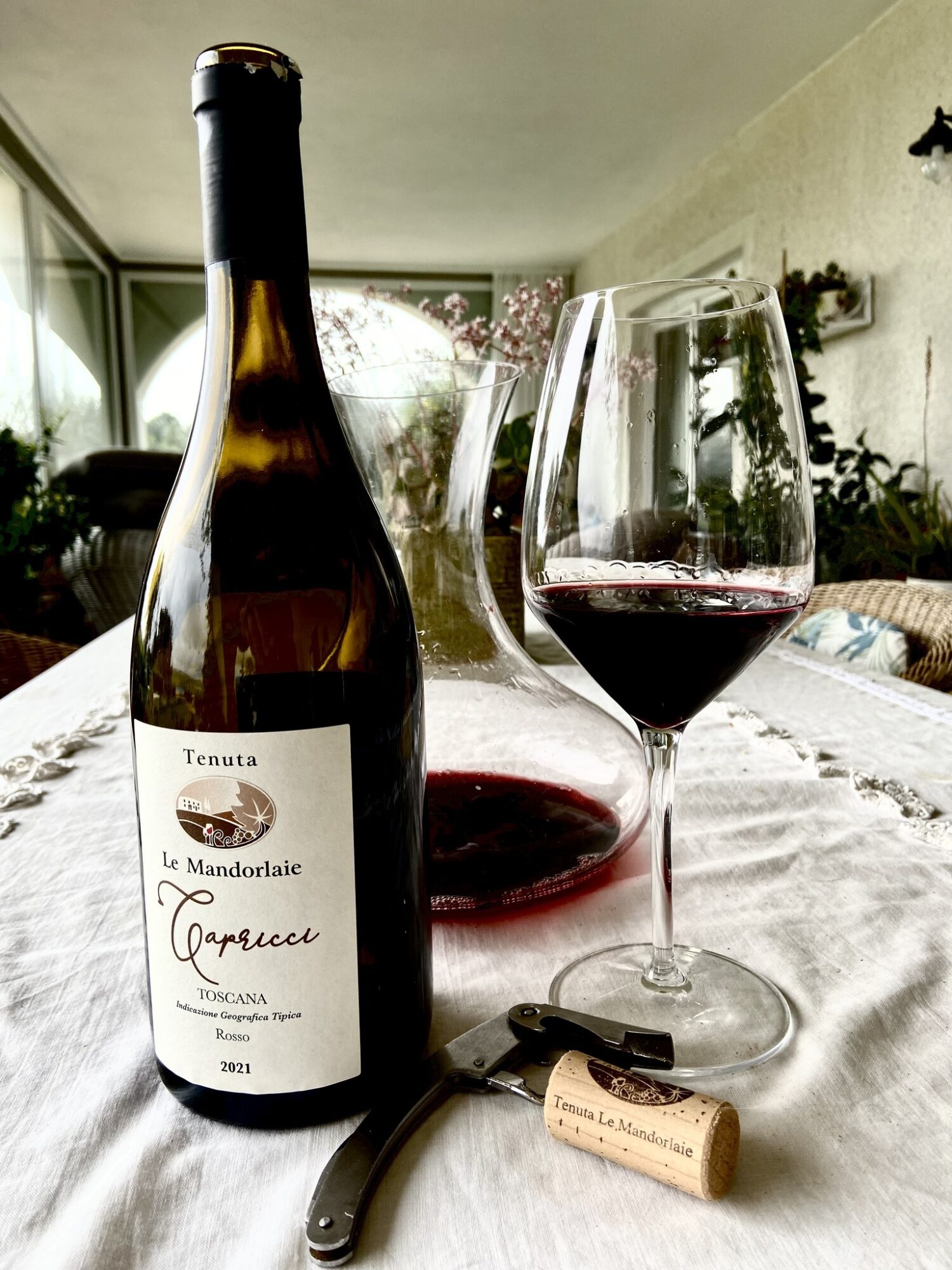 Tuscany Sangiovese wine where to buy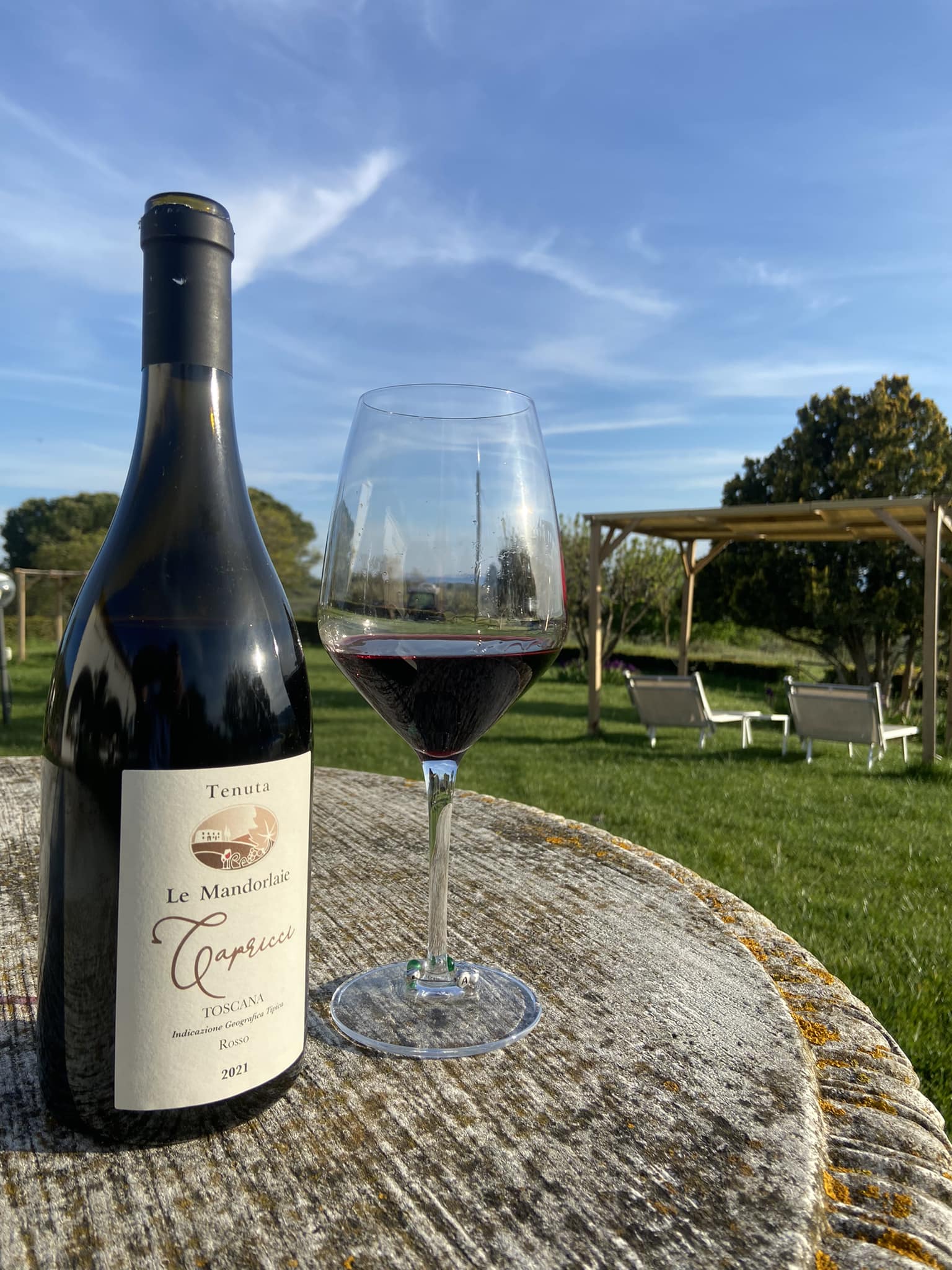 Embark on an extraordinary odyssey through the enchanting realm of Tuscany's Sangiovese wine, where the allure of Capricci Toscana IGT Rosso reaches its zenith. At Tenuta Le Mandorlaie's exclusive virtual emporium, prepare to embark on a sensory adventure like no other. With each sip of this meticulously crafted masterpiece, a symphony of flavors dances upon your palate, transporting you to a realm of pure delight that only the finest Sangiovese wine can offer.
Uncover the captivating journey behind Capricci Toscana IGT Rosso, painstakingly hand-harvested from the prestigious Mandorlaie locality in Scansano. This extraordinary wine is born from a meticulous blend of 90% Sangiovese grapes, harmoniously intertwined with carefully selected red and white varietals, embodying the very essence of Tuscan terroir. From the artful fermentation under precise temperature control to the ten days of skin maceration, this wine matures for twelve months in stainless steel vats. Further nurtured for six months in French Oak barrels, it reaches its pinnacle after three months of refinement in the bottle. Each bottle, with its 750ml of liquid bliss, is best enjoyed at an ideal temperature of 18°C.
Tuscany Sangiovese wine where to buy online
Shop now at Tenuta Le Mandorlaie, where the best Tuscan red wine awaits your discerning palate. In a place as unique as the wine it produces, Tenuta Le Mandorlaie demonstrates an unwavering commitment to environmental stewardship, reflected in every bottle of Capricci Toscana IGT Rosso 2021. The vineyards, overlooking the sea near Scansano, have flourished for over five decades, embodying the true spirit of their birthplace. The blend of clay and sandy soil, coupled with minimal rainfall, imparts an unparalleled flavor profile to the grapes, resulting in a wine of extraordinary quality. Celebrating sustainable practices, this winery fuses exceptional craftsmanship with environmental consciousness.
While some may underestimate the potential of IGT wines compared to their DOC/DOCG counterparts, Capricci Toscana IGT Rosso 2021 defies expectations. Freed from the shackles of stringent regulations, this wine stands as a symbol of innovation and excellence. It captures the essence of the land, enabling winemakers to explore diverse grape varieties and cutting-edge winemaking techniques, resulting in a wine that surpasses all expectations and embodies the very essence of Tuscan winemaking at its finest.
Secure online boutique of Tenuta Le Mandorlaie
Step into the secure online boutique of Tenuta Le Mandorlaie and unlock an unforgettable journey with Capricci Toscana IGT Rosso. Prepare to be captivated by the enchanting offers that await you as you immerse yourself in the world of this distinguished winery, renowned for its unwavering commitment to crafting products of unparalleled excellence. Alongside their extraordinary olive oil, Tenuta Le Mandorlaie invites you to explore their extensive range of offerings, where tradition and innovation seamlessly converge.
Indulge your senses in the captivating flavors and aromas that await within each bottle of Capricci Toscana IGT Rosso. Immerse yourself in the rich tapestry of Tenuta Le Mandorlaie's legacy, and experience the true essence of Tuscan excellence like never before. Discover the Best Tuscan Red Wine and embark on a journey that will leave an indelible mark on your palate. Unleash the allure of this Tuscan masterpiece by shopping now at Tenuta Le Mandorlaie's online store and surrender to its mesmerizing charm.
Shop now at Tenuta Le Mandorlaie
Our IGT Toscana Wine Products