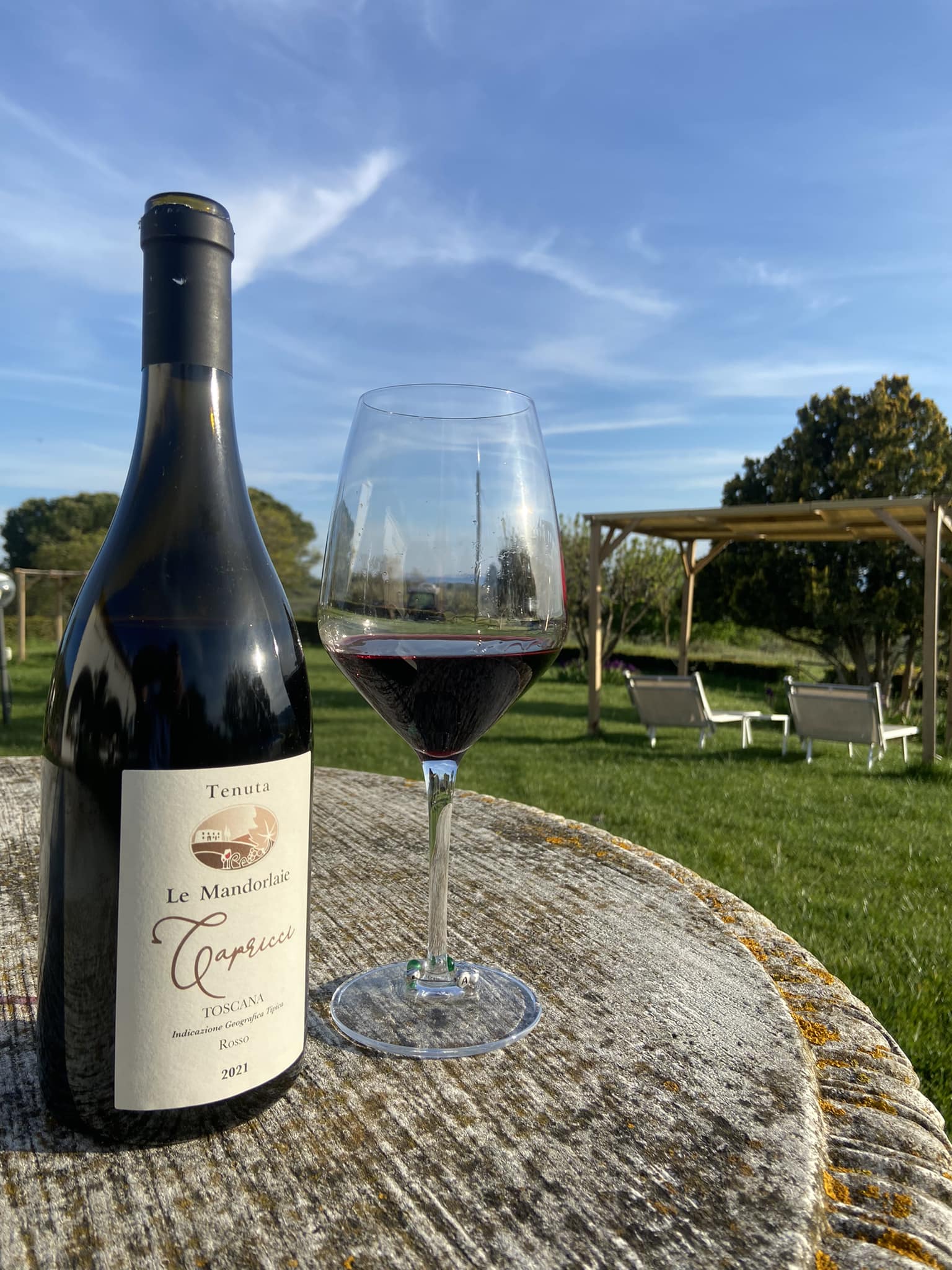 Red wine from Tuscany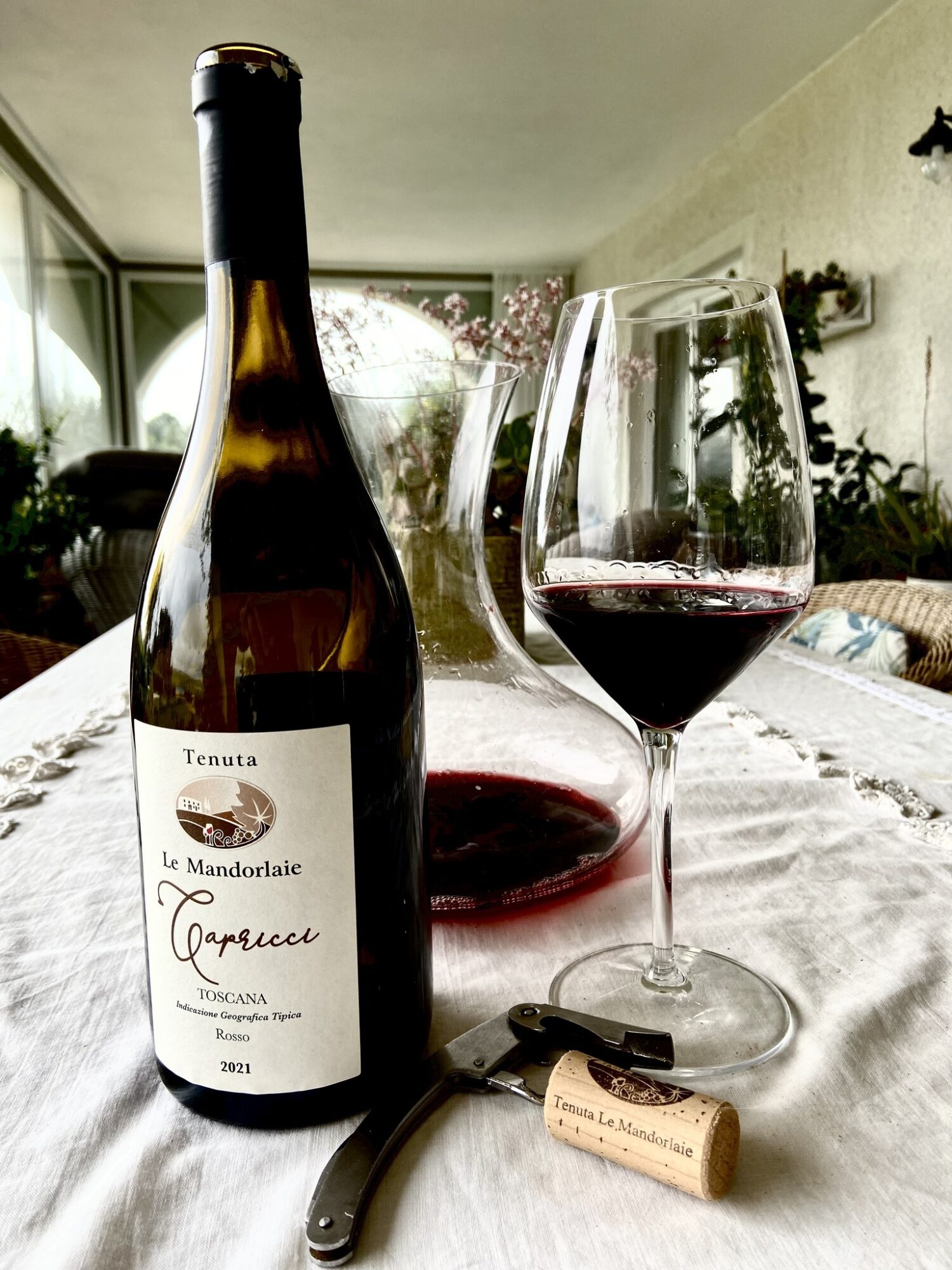 Indulge in the everyday luxury of Capricci IGT Toscana Rosso, a captivating red wine from Tuscany. Immerse yourself in the special experience that this full-bodied wine offers, crafted with a blend of 90% Sangiovese and 10% other red and white grapes. Each grape is carefully hand-harvested from the Mandorlaie locality in Scansano, a breathtaking part of Tuscany.
The journey of Capricci begins with meticulous vineyard practices and a deep respect for the environment. The vines, aged over 50 years, thrive in the view of the nearby sea, infusing the wine with a unique taste that embodies the essence of its terroir. The clay and sandy soil, combined with the region's minimal rainfall, contribute to the enhanced flavors of the grapes.
To preserve the wine's character, the grapes undergo fermentation at a controlled temperature with skin maceration for 10 days. Afterward, they are aged for 12 months in stainless steel vats, followed by an additional 6 months in French Oak barrels and 3 months in the bottle. This aging process bestows the wine with a robust structure that is sure to captivate your palate.
Capricci Toscana IGT Rosso 2021 pairs exceptionally well with antipasti of crostini and cold cuts, as well as pasta dishes with flavorful sauces. Its versatility and rich profile make it a perfect companion for various culinary delights.
While IGT wines are sometimes considered less "important" than those with a DOC/DOCG label, Capricci Toscana IGT Rosso 2021 defies expectations. It exemplifies the freedom and innovation afforded to winemakers within the IGT classification, resulting in a wine that is truly exceptional.
To experience the magic of Capricci, you can conveniently purchase it directly from the esteemed winemaker, Tenuta Le Mandorlaie. Visit their secure online shop and explore the wonderful offers available to bring the allure of Capricci IGT Toscana Rosso to your table.
Discover the world of Tenuta Le Mandorlaie, a Tuscan winery and olive oil producer renowned for their commitment to excellence. Their estate in the Scansano area of Tuscany produces not only exceptional IGT wines but also IGP extra virgin olive oil known for its exquisite flavor and quality.
IGT wines, represented by the Indicazione Geografica Tipica classification, offer winemakers the freedom to showcase their creativity without being bound by the strict regulations governing DOC/DOCG wines. Capricci Toscana IGT Rosso 2021 is a prime example of the remarkable wines produced within this classification, demonstrating the winemaker's dedication to crafting wines of impressive caliber.
If you're a discerning connoisseur seeking the best Italian red wine, Capricci IGT Toscana Rosso deserves your attention. However, it's important to note that the concept of the "best" wine is subjective, as it varies according to individual palates and preferences. Capricci offers a personal journey through taste, inviting you to explore its intricacies and decide for yourself.
Keep in mind that Capricci IGT Toscana Rosso evolves beautifully with age, unveiling increased complexity and smoothness. Its capacity for graceful aging sets it apart as a wine to be cherished over time.
For the latest information on vintages and availability of Capricci IGT Toscana Rosso, we recommend connecting directly with Tenuta Le Mandorlaie. Embark on a delightful journey through their online store, where enticing offers await those eager to savor the enchantment of Capricci Toscana IGT
Our IGT Toscana Wine Products