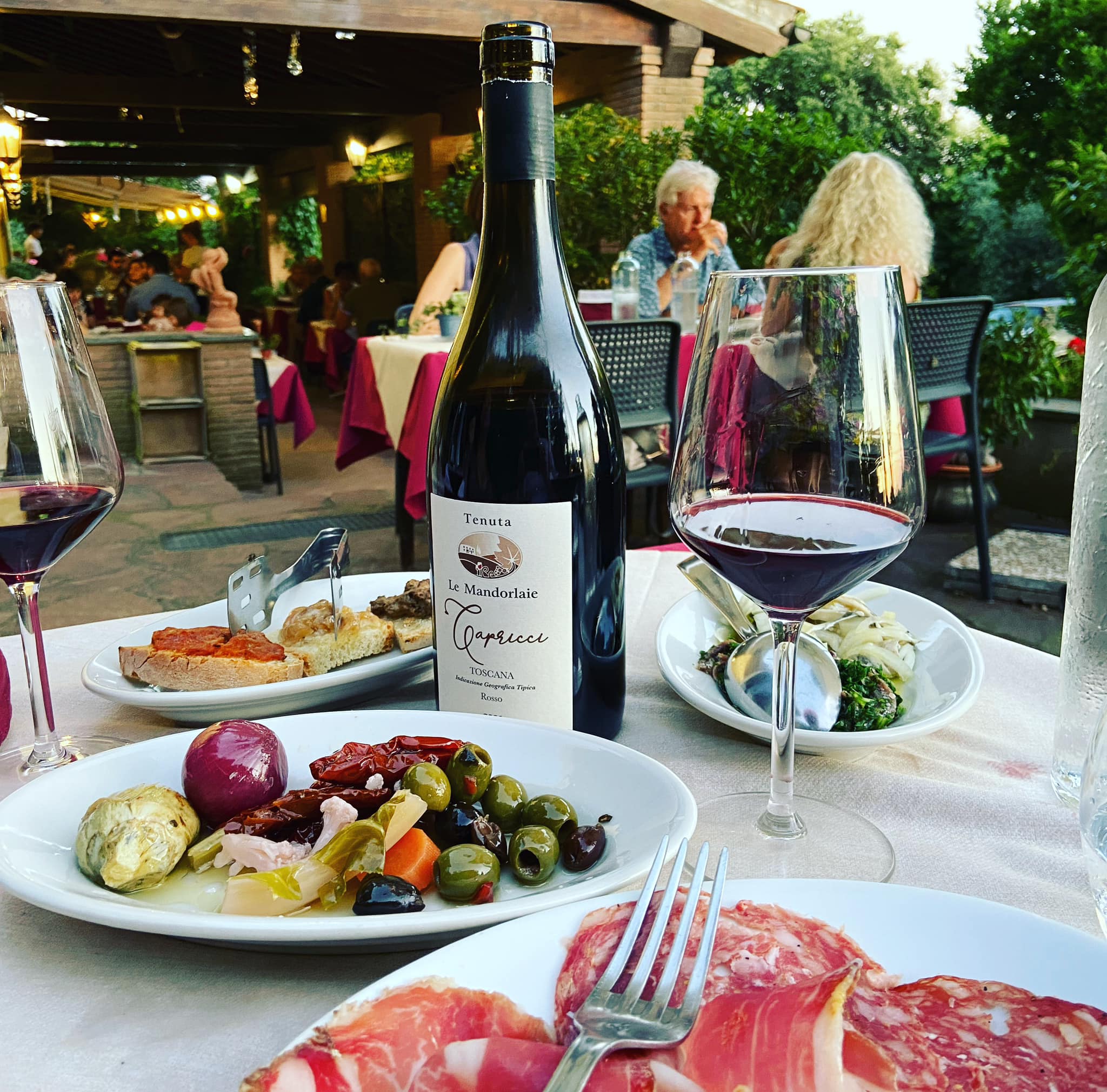 Tuscany Wine Direct from an independent vineyard

Capricci, from our independent vineyard
Step into the world of Capricci IGT Toscana Rosso from our independent vineyard and embrace its unique charm every single day. This enchanting wine experience is embodied by our robust IGT Toscana Rosso, carefully fashioned with 90% Sangiovese grapes and an additional blend of 10% red and white grape varieties. Handpicked with precision from the Mandorlaie locality in Scansano, Tuscany, these grapes encapsulate the heart and soul of the region. An exquisite journey unfolds as fermentation takes place under controlled temperatures, accompanied by a 10-day skin maceration period. The culmination of craftsmanship arrives with 12 months of maturation in stainless steel vats, followed by an artful embrace of 6 months in French Oak barrels, and a final 3 months of refinement within the bottle. With a serving temperature of 18°C, delight in every sip of this splendid creation, bottled in a 750ml format.
Capricci IGT Toscana Rosso, A Symphony of Flavor
Elevate your senses through Capricci Toscana IGT Rosso 2021, a testament to sustainable practices that pay homage to the environment. This wine channels the very essence of the land from which it springs forth. The grapes, sourced from vines that have stood for more than half a century, bask in the view of the sea, mere moments away from the historic town of Scansano and the gateway to the Tuscan archipelago, Porto Santo Stefano.
The Tapestry of Terroir Unveiled
In the heart of the vineyard lies a mosaic of clay and sandy soil, perched at an altitude of 350 meters above the sea level. The delicate dance between this unique terroir and the minimal rainfall of Maremma culminates in grapes that bear an enriched flavor profile. With 90% Sangiovese grapes harmonizing alongside 10% other red and white varieties, each individual bunch is carefully chosen in the Mandorlaie locality of Scansano, Tuscany.
Crafting Elegance in Every Sip
Guided by precision, the fermentation process unfolds at a controlled temperature of 25°C, coupled with a 10-day maceration period that includes the grape skins. This meticulous journey matures over 12 months within stainless steel vats, followed by a harmonious transition into French Oak barrels for an additional 6 months. The final refinement transpires within the bottle, resulting in Capricci Toscana IGT Rosso 2021 – a wine that boasts a full-bodied character and a robust structure. This makes it a perfect companion for dishes like antipasti of crostini and cold cuts, as well as pasta offerings paired with hearty sauces. A serving temperature of 18°C enhances its allure, presented in the timeless 750ml format.
The Significance of IGT and DOC/DOCG Wines
Often, Toscana IGT Rosso wines might be perceived as less "important" in comparison to their DOC/DOCG labeled counterparts. However, this is a notion that doesn't always hold true. In fact, many of the finest examples of innovative and high-quality Tuscan wines are nestled within the IGT category. This distinction is attributed, in part, to the artistic freedom the IGT classification offers to winemakers. Unburdened by the regulations governing DOC/DOCG wine status, the result is a realm of creativity that gives birth to extraordinary wines. One such gem is the Capricci Toscana IGT Rosso 2021, an exceptional embodiment of IGT Toscana wine that is certain to leave a lasting impression.
The Journey to Acquire Capricci: Direct from an indepedent vineyard
Currently, the opportunity to acquire Capricci is yours for the taking, directly from the artisans at Tenuta Le Mandorlaie. Embark on a virtual journey to their secure online shop and discover the splendid offers that await you.
A Glimpse into Tenuta Le Mandorlaie
Tenuta Le Mandorlaie isn't just an independent vineyard; it's a realm of quality and distinction. Nestled within the Scansano region of Tuscany, Italy, this establishment produces exceptional IGT wines and IGP extra virgin olive oil. Both these offerings have earned acclaim for their unparalleled quality and unparalleled flavors.
Unraveling the Essence of IGT and IGP
The abbreviation IGT stands for Indicazione Geografica Tipica, or "Typical Geographical Indication" in English. This classification adorns Italian wines with the badge of their origin, while allowing for flexibility in terms of grape variety and winemaking techniques. IGT wines are born from grapes rooted in specific geographic regions, yet they are not bound by the stringent regulations governing the DOC or DOCG classifications. This creative freedom paves the way for innovation and uniqueness in winemaking.
Embracing this freedom, Tenuta Le Mandorlaie's IGT Toscana Rosso 2021 takes form. Crafted primarily from 90% Sangiovese grapes, the blend is a tribute to the winemakers' artistry. Complemented by 10% other red and white grape varieties, it's a symphony that resonates with the essence of the terroir.
IGP, or Indicazione Geografica Protetta, steps beyond the boundaries of wine, encompassing products like extra virgin olive oil. At Tenuta Le Mandorlaie, this means exceptional IGP extra virgin olive oil is produced with painstaking care. Grown on their Scansano estate, olives are hand-harvested and cold-pressed within 24 hours to preserve their intrinsic quality. The outcome is a high-caliber extra virgin olive oil, enriched with a robust flavor and an aroma that captures the uniqueness of the region.
The Culmination of Excellence
In a nutshell, Tenuta Le Mandorlaie serves as a bastion of exceptionalism, offering not only an extraordinary IGT Toscana Rosso wine but also an exquisite IGP extra virgin olive oil. Their commitment to sustainable practices echoes through these
Our IGT Toscana Wine Products