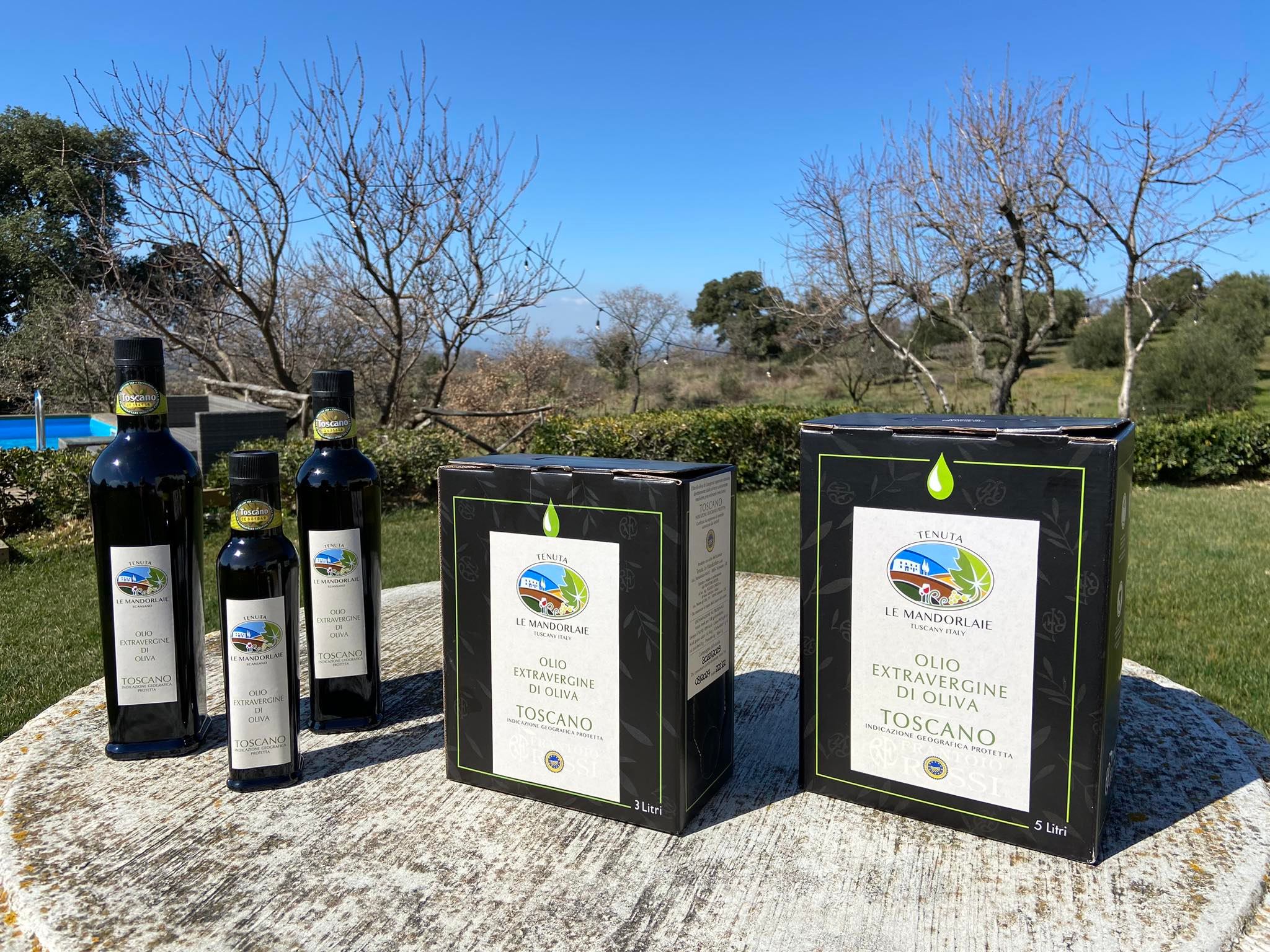 Extra Virgin Olive oil price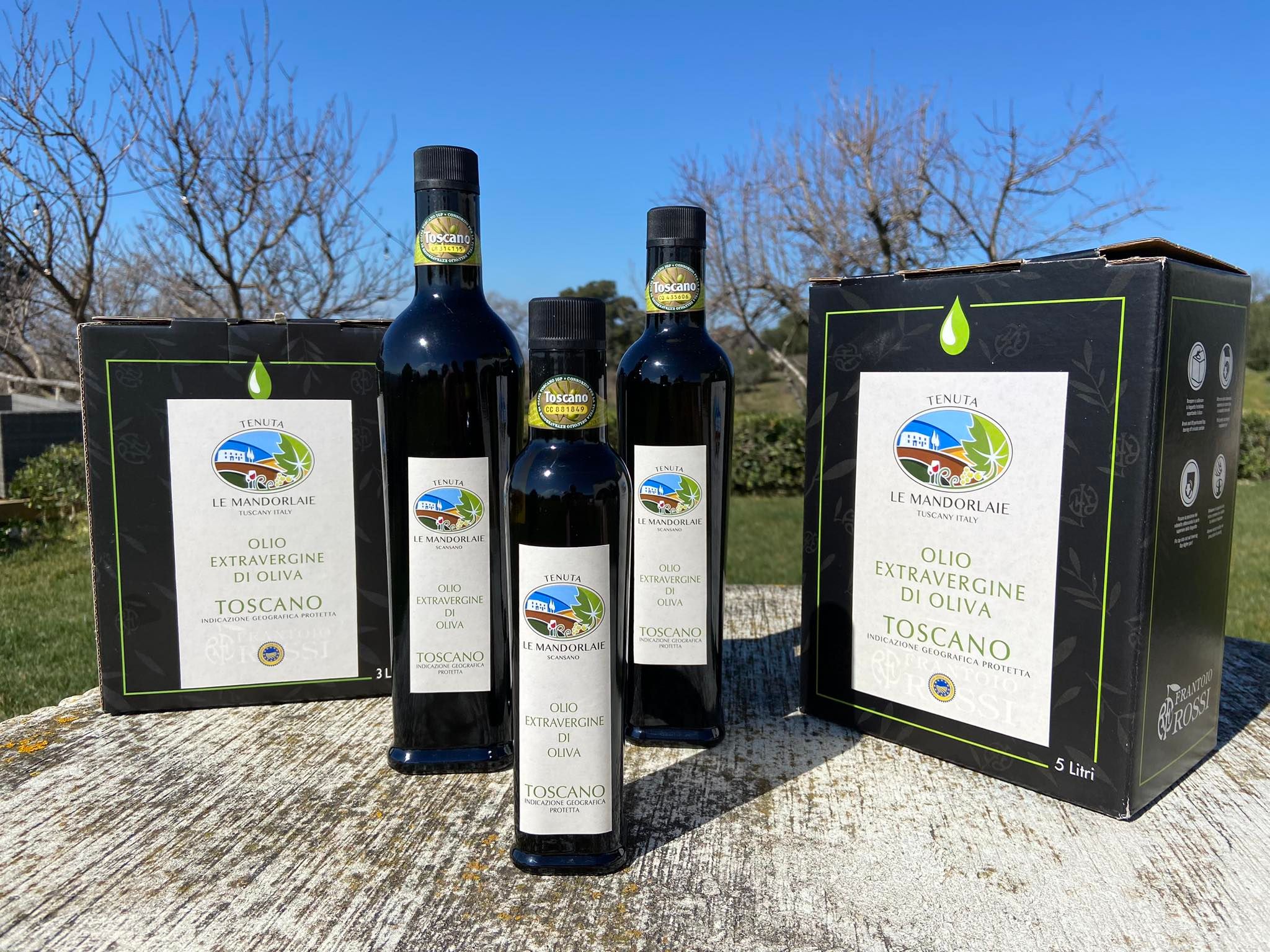 Welcome to the digital aisles of our IGP Olive Oil Toscana Online emporium where we bring you the very best extra virgin olive oil price offers – it is the virtual haven for connoisseurs of liquid gold, where the promise of unparalleled 100% Organic Italian extra Virgin Olive Oil awaits.
Explore our bountiful selection of IGP Olive Oil Toscana Olive Oils, each brimming with the captivating essence that arises from the marriage of terroir, temperature, and the geographical tapestry of Maremma, Tuscany. With a seamless shopping experience fortified by robust security measures and lightning-fast delivery options, the joy of gifting your cherished ones or embellishing your culinary endeavors has never been more effortless.
The Distinct Advantages of Opting for IGP Toscana Italian Olive Oil
At Tenuta Le Mandorlaie elevating your culinary journey is our hallmark. Every variant of our extra virgin olive oils is a meticulously curated masterpiece, personally endorsed by our seasoned taste experts as quintessential representatives of Italy's artisanal finesse. Embracing the 'Made in Italy' ethos with unwavering allegiance, we assure you that each drop encapsulates the essence of authenticity.
Empower your choices with the confidence that accompanies our diverse range, catering to every spectrum from everyday cooking to indulgent tasting experiences. An unbroken commitment to unfaltering freshness and supreme quality is our pledge.
The Pinnacle of Italian Olive Oil – IGP Toscana
Amidst the digital shelves of our store, the search for the premier Italian olive oil culminates. Every product bearing our emblem bears the prestigious verification of being an organic extra virgin olive oil sourced exclusively from the Italian soil. Irrespective of your predilection for a small, medium, large, or trade-sized acquisition, our oils stand resolute in their promise to gratify your senses. Through conscientious packaging that ensures prolonged product vitality and our dedication to sustainable practices using recyclable materials, we mirror our commitment to both your delight and the planet's well-being.
A Gastronomic Symphony Crafted Solely in Italy
Our narrative is entwined with the Italian soil, from inception to packaging. The orchestration of creation, milling, and packaging unfurls exclusively within the Italian terrain. Our unwavering support for olive oil growers resonates within this commitment, as we bolster their pursuit of delivering globally unparalleled Extra Virgin Olive Oil. Embracing a product from our repository equates to embracing an authentic narrative, traceable through its unique IGP identity number back to the very cradle of its inception.
The Bounty of Wellness from IGP Olive Oil Toscana
Embark on an expedition into the realm of wellness with our Extra Virgin Olive Oil. Delve into a treasure trove of informative insights about the health virtues that this elixir bestows. Engage with its healthy monounsaturated fats, benevolent oleic acid, antioxidants, and antibacterial properties. Enrich your culinary escapades and augment your well-being through the following health boons:
– Fortified Cardiac Resilience: Cultivate a heart-healthy lifestyle as olive oil contributes to preventing heart attacks.
– Cholesterol Control: Witness your cholesterol levels descending under the influence of olive oil's miraculous properties.
– Cognitive Enhancement: The scientifically documented antioxidants residing within olive oil can potentially reverse memory deficits linked to diseases.
– Digestive Aid: Embrace a balanced diet as the inclusion of olive oil showcases a propensity to combat obesity.
– Cardiovascular Safeguard: Through its remarkable attributes, olive oil mitigates the risk of heart attacks and stroke, fostering unobstructed blood flow.
Procuring IGP Extra Virgin Olive Oil Online
The zenith of olive oil acquisition awaits as you embark on the journey to purchase IGP Toscana olive oil through our online platform. The profound understanding we possess about our oil – from inception in the olive groves to final bottling – equips us to be your ultimate virtual olive oil guide Extra Virgin Olive oil price. Seamlessly transact online, ensuring the products reach your doorstep with expediency and security. Elevate your gifting game with our olive oil gift offerings, an avenue for sharing the dual joys of taste and health.
Exploring the Alchemy of Olive Oil Creation
Curious minds seeking to unravel the saga of olive cultivation, nurturing, and harvest shall find solace in our repository of enlightening articles. From the art of nurturing olive trees to the intricacies of milling olives into liquid gold, we illuminate the journey of olives from orchard to bottle.
Cooking with IGP Olive Oil Toscana, A Gastronomic Odyssey
The epicurean soul seeks nothing short of culinary magic – a fusion of flavors that orchestrates symphonies on our palates. In the realm of gastronomy, our High-quality extra virgin olive oils assume the roles of virtuoso conductors. Spanning a profusion of olive varieties and the kaleidoscope of blends and infused IGP extra virgin olive oils, they present a kaleidoscope of options. The fruity undertones and subtly bitter nuances, evoking freshness and nutritional prowess, offer a culinary canvas awaiting your creativity.
Unraveling the Myth of Frying with Extra Virgin Olive Oil
Scientific inquiry has recently debunked the myth surrounding the viability of frying and cooking with extra virgin olive oil. Prolonged exposure to heat no longer spells doom for its inherent health attributes. The health-enhancing facets remain unscathed unless the oil reaches its smoke point, an assurance for those pursuing a holistic approach to cooking.
Embark on the Odyssey to Becoming an Olive Oil Sommelier
A voyage into the world of olive oil and Extra Virgin Olive oil price merits an intimate acquaintance with its textures, aromas, and flavors. Our Olive Oil tasting kit, accompanied by a wealth of knowledge, positions you as a discerning connoisseur. Whether shared with friends, family, or cherished ones, the experience promises edification and delectation, underscoring learning with a dash of delight.
Embracing the Novelties of New Harvest Olive Oil
The allure of the freshest harvest beckons, and our repository stands prepared to gratify your yearning. Explore the bouquet of flavors emanating from our latest harvest of IGP extra virgin olive oil, a sensory voyage that underscores the artistry of timing.
Preserving the Essence: Shelf Life of Extra Virgin Olive Oil
Two gatekeepers govern the palatal journey of olive oil – heat and light. The dynamic duo that shapes its taste profile and aromatics. Our pledge is to ensure each product arrives in the pinnacle of condition. To prolong their life post-purchase, we advocate a cool, dark haven for your EVOO liquid treasure.
Our IGP Olive Oil Toscana products