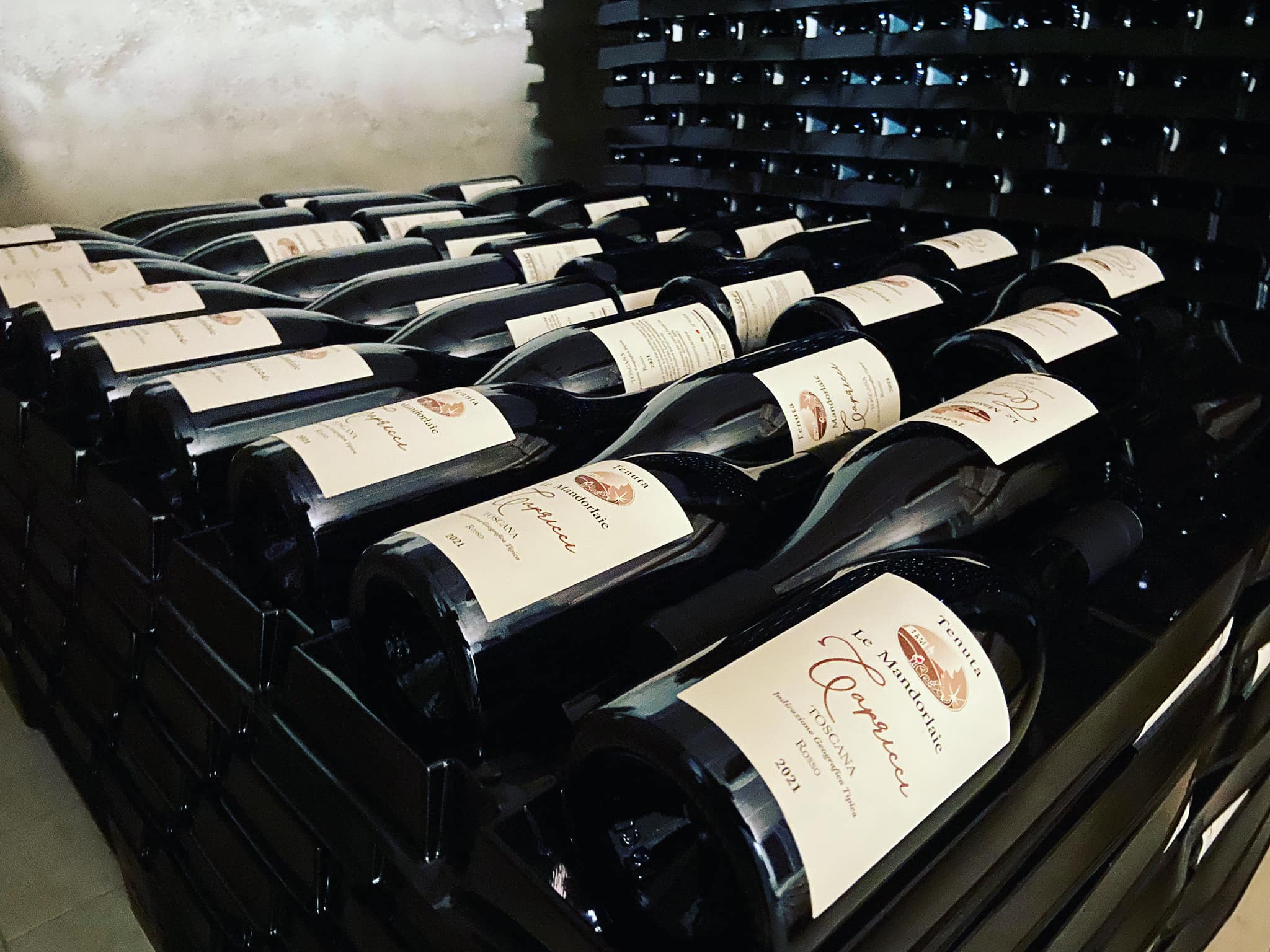 Tuscany wine special offer
Tuscany Wine Special Offer on Capricci IGT Toscana Rosso
Discover the extraordinary allure of Capricci IGT Toscana Rosso and infuse every day with a touch of magnificence. Crafted to perfection, this full-bodied wine is a symphony of flavors, inviting you to explore the magic of Tuscany's Mandorlaie locality in Scansano.
Unveiling Capricci's Elegance: A Wine Beyond Compare
Indulge in the exceptional experience that Capricci offers on a daily basis. Comprising 90% Sangiovese and 10% other red and white grapes, this wine is meticulously hand-harvested from the pristine vineyards of Tuscany. The journey to perfection begins with controlled fermentation and a meticulous 10-day maceration with skins, followed by aging for a total of 12 months in stainless steel vats, gracefully moving on to 6 months of refinement in French Oak barrels, and culminating in a harmonious maturation of 3 months in the bottle. Serve this masterpiece at an ideal temperature of 18°C and luxuriate in the 750ml format.
Echoes of Terroir: Tuscany's Enchanting Gift
Capricci Toscana IGT Rosso 2021 is not just a wine; it's a journey that reflects the essence of its birthplace. The grapes, delicately plucked from vines over 50 years old, thrive amidst the enchanting beauty of Scansano. Situated within sight of the sea, this paradise is a short drive away from the historic town of Scansano and the gateway to the Tuscan archipelago, Porto Santo Stefano.
The vineyard's terroir, a harmonious blend of clay and sandy soil, graces an elevation of 350m above sea level. The Maremma's modest rainfall bestows upon the grapes a unique and intensified flavor profile. This intriguing composition, composed of 90% Sangiovese and 10% other red and white grapes, is a testament to the winemaker's dedication. Every bunch is hand-harvested from the heart of Mandorlaie, Scansano, Tuscany, ensuring the authenticity of its origins.
Meticulous Craftsmanship: Elevating Excellence in Winemaking
Capricci Toscana IGT Rosso 2021 is not just a wine; it's a masterpiece meticulously crafted with care. The fermentation process, orchestrated at a precise 25°C temperature with a 10-day maceration with skins, sets the stage for greatness. A symphony of flavors and aromas develops during its 12-month residence in stainless steel vats. This symphony matures gracefully through an additional 9 months in French Oak barrels, finally resting for 3 months in the bottle. The result is a wine of immense character, a full-bodied choice that beautifully complements antipasti, pasta dishes, and more.
Tuscany Wine Special Offer: Embrace Luxury at Your Fingertips
Capricci IGT Toscana Rosso 2021 isn't just a wine; it's an opportunity to partake in a Tuscany wine special offer that resonates with luxury. The symphony of flavors and the artistry of the terroir can now grace your table, elevating every dining experience into an event to remember. With every pour, Capricci offers you the chance to be enveloped in the charm of the Mandorlaie locality and the craftsmanship of Tenuta Le Mandorlaie, Scansano.
Our Capricci IGT Toscana Wine special offer
Unleash Your Palate: Tuscany's Best Kept Secret
Tuscana IGT Rosso wines often hide a secret within their unassuming classification. While DOC/DOCG-labeled wines might claim the spotlight, the IGT category is a treasure trove of innovation and quality. Winemakers are granted the freedom to create unique expressions, unburdened by the regulations governing DOC/DOCG wines. Capricci Toscana IGT Rosso 2021 proudly emerges as a shining example of the brilliance that IGT Tuscany can achieve.
Unlock Unrivaled Pleasure: Secure Your Capricci Experience
Unveil the exceptional by securing your Capricci experience directly from Tenuta Le Mandorlaie. The winemaker opens the doors to their exclusive online shop, offering a gateway to the allure of Capricci IGT Toscana Rosso. Explore the offerings, indulge in the Tuscany wine special offer prices, and embrace luxury at its finest.
Tenuta Le Mandorlaie: A Tradition of Excellence
Tenuta Le Mandorlaie is more than a winery; it's a sanctuary of excellence nestled within the heart of the Mandorlaie locality. With a range of IGT wines and IGP extra virgin olive oil, they embody the spirit of Tuscany's craftsmanship. IGT, or Indicazione Geografica Tipica, translates to Typical Geographical Indication. This classification permits the fusion of tradition and innovation, resulting in creations that embody the essence of the land.
Elevate Every Sip: The Essence of Capricci
Every sip of Capricci IGT Toscana Rosso is a journey through the essence of Tuscany. A tribute to the Mandorlaie locality, this wine captures the nuances of the terroir in every glass. With its harmonious blend of clay and sandy soil, caressed by the Mediterranean breeze, it crafts a sensory symphony that resonates with authenticity.
Capricci IGT Toscana Rosso: Where Tradition Meets Luxury
Capricci IGT Toscana Rosso isn't just a wine; it's an embodiment of tradition fused with luxury. From the moment of harvest to the last drop in your glass, it carries the legacy of its birthplace. With each sip, you're transported to the heart of Tuscany, where history, innovation, and the Mediterranean sun converge to create an exceptional masterpiece.