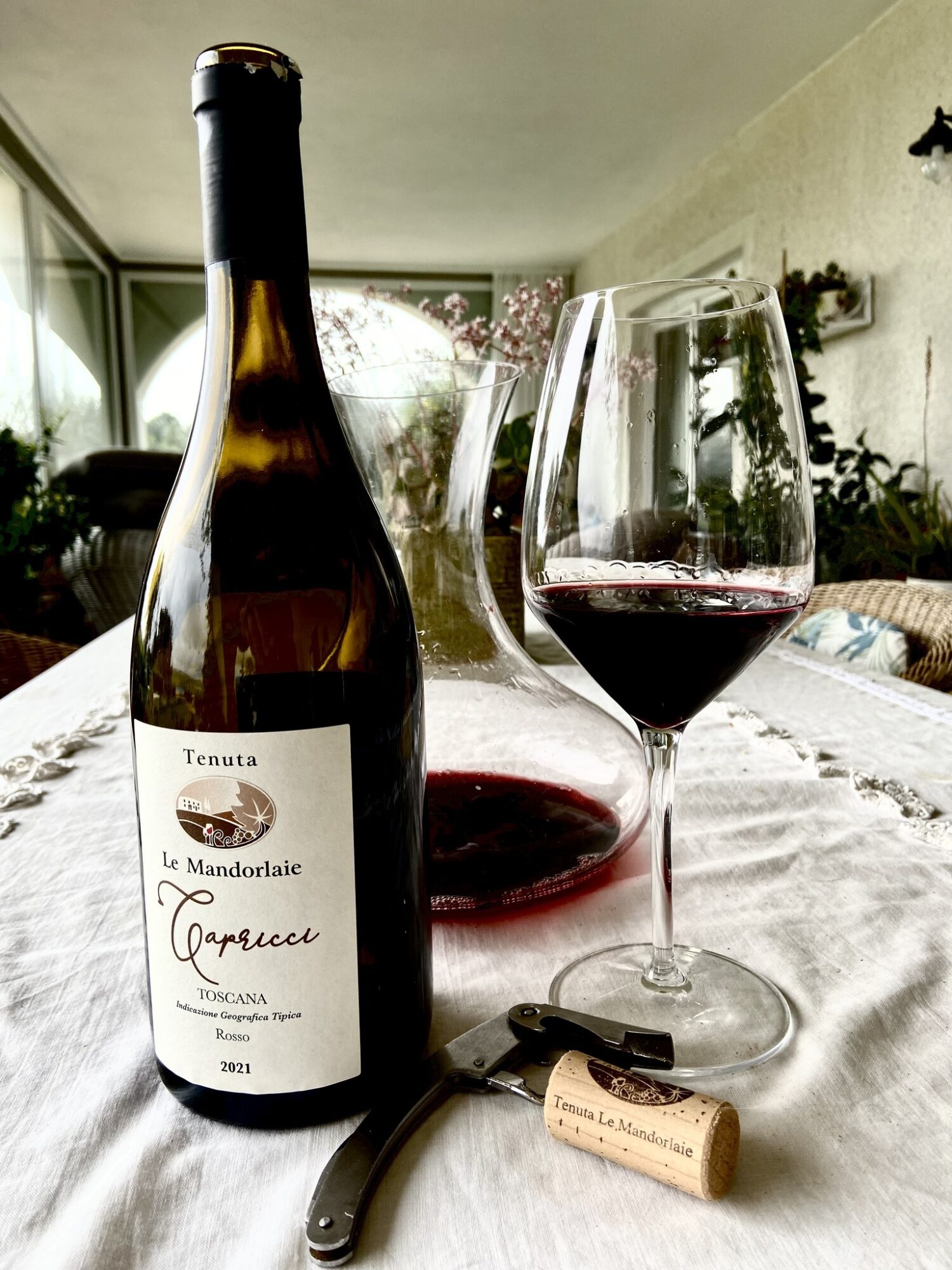 Best Tuscan wines from Maremma Italy

Are you ready to taste the best Tuscan wines from Maremma Italy
Experience the splendor of Maremma, Italy's finest Tuscan wines with the exceptional Capricci Toscana IGT Rosso. Elevate your daily moments to extraordinary heights as you embark on a captivating journey with each sip of this meticulously crafted red wine from Tenuta Le Mandorlaie.
Tenuta Le Mandorlaie's secure online shop
Delve into a realm of enchantment, where the heart of Tuscany conceives a symphony of flavors in the form of Capricci Toscana IGT Rosso. This full-bodied wine, composed primarily of 90% Sangiovese along with a harmonious blend of other red and white grape varieties, is derived from hand-harvested grapes carefully cultivated in the Mandorlaie locality of Scansano.
Creating the best wine takes care and passion
Immerse yourself in the extraordinary process behind the creation of Capricci Toscana IGT Rosso. With fermentation at precisely controlled temperatures and ten days of skin maceration, this wine matures gracefully for twelve months in stainless steel vats. It is then nurtured for an additional six months in French Oak barrels, culminating in three months of refinement in the bottle. Serve it at the optimal temperature of 18°C and experience the magnificence that awaits within each 750ml bottle.
Capricci Toscana IGT Rosso 2021 embraces the principles of sustainability, paying homage to the environment while showcasing the true essence of its birthplace. The grapes, harvested from vines that have flourished for over five decades, bask in the idyllic vineyards overlooking the scenic Maremma sea. Situated at an elevation of 350m, the terroir's unique combination of clay and sandy soil, coupled with minimal rainfall, imparts an unparalleled flavor profile to the grapes, resulting in a wine of extraordinary quality.
Tenuta Le Mandorlaie's secure online shop
While IGT wines are sometimes seen as less significant than their DOC/DOCG counterparts, Capricci Toscana IGT Rosso 2021 defies expectations. Embracing the freedom afforded by its classification, this wine exemplifies innovation and excellence, capturing the true essence of the land without the constraints imposed by strict DOC/DOCG regulations.
To savor the magic of Capricci, indulge in the convenience of Tenuta Le Mandorlaie's secure online shop. Uncover the enticing offers that await you and let your senses be captivated by the allure of Capricci Toscana IGT Rosso. Immerse yourself in the world of this distinguished Tuscan winery, renowned for its commitment to crafting products of unparalleled excellence, including their exceptional olive oil.
The IGT classification, Indicazione Geografica Tipica, grants Capricci Toscana IGT Rosso its distinctive identity. This designation signifies the wine's origin, allowing winemakers the freedom to explore diverse grape varieties and winemaking techniques. Grown within specific geographic boundaries, IGT wines epitomize a harmonious blend of tradition and innovation.
Shop securely online for the best Tuscan Maremma wine
Discover the riches of Tenuta Le Mandorlaie, an esteemed Tuscan winery that extends its expertise beyond wine to produce exceptional IGP extra virgin olive oil. Bearing the mark of Indicazione Geografica Protetta, this olive oil guarantees its origin from a specific geographic area, adhering to rigorous production methods and uncompromising quality standards.
Immerse yourself in the symphony of taste, explore the essence of Tuscan excellence, and shop now at Tenuta Le Mandorlaie for the captivating Capricci Toscana IGT Rosso.
Tenuta Le Mandorlaie's secure online shop
Our IGT Toscana Wine Products