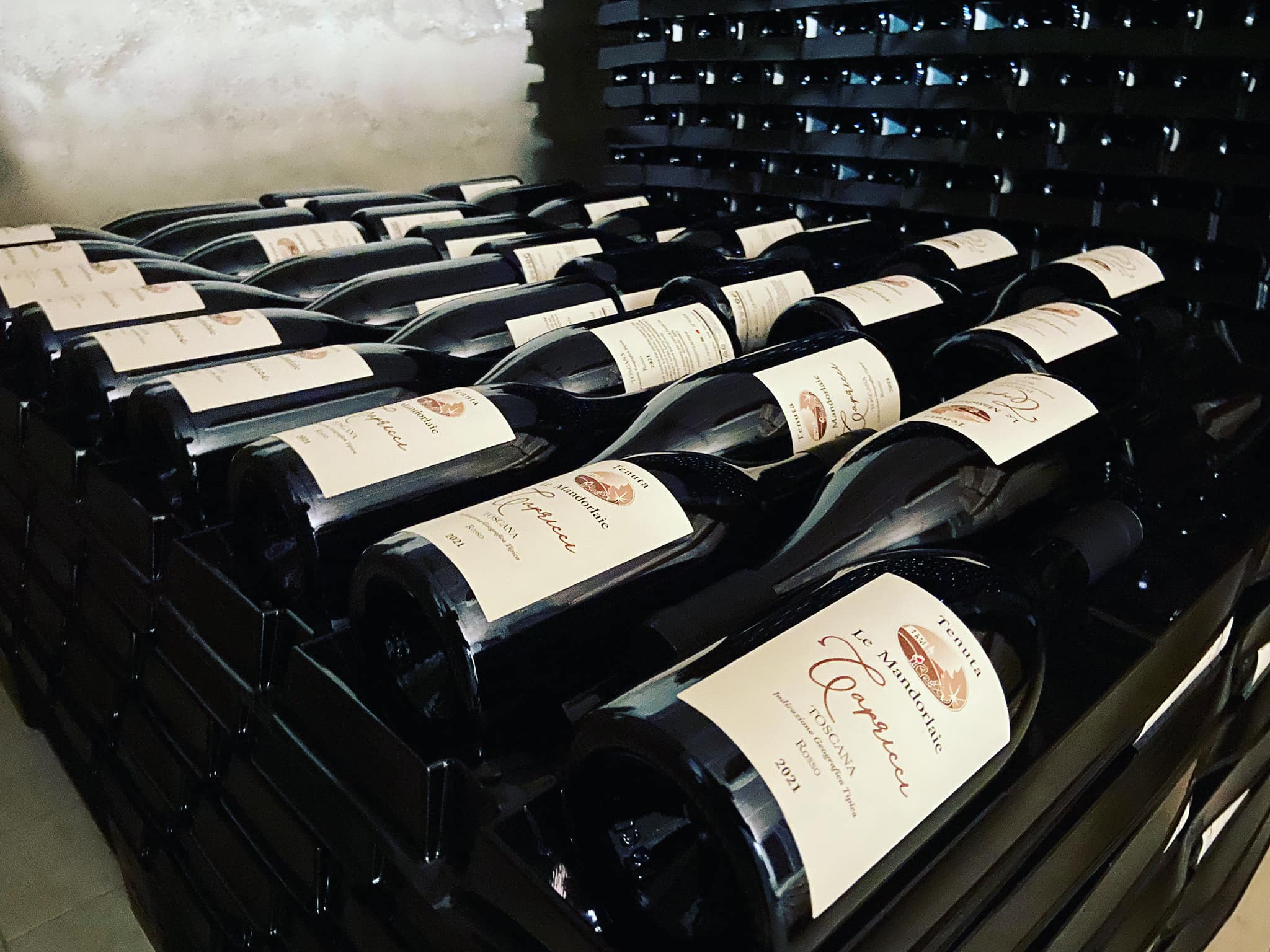 Maremma winery
Discover Capricci IGT Toscana Rosso at our Maremma winery
Elevate your everyday moments with the exceptional allure of Capricci IGT Toscana Rosso, a wine that promises to make each day special. This full-bodied masterpiece, carefully crafted at a renowned Maremma winery, is a testament to the harmonious marriage of tradition and innovation.
A Symphony of Flavors from the Heart of Maremma
Nestled within the enchanting Mandorlaie locality in Scansano, Tuscany, Capricci IGT Toscana Rosso captures the essence of the land's beauty. Comprising 90% Sangiovese grapes and 10% other red and white varieties, this wine is meticulously hand-harvested, ensuring that every sip encapsulates the soul of Maremma's terroir.
Craftsmanship and Care, Unveiling the Journey of Capricci
The journey of Capricci is a work of art that demands meticulous attention. After a precise fermentation process at controlled temperatures, accompanied by a 10-day maceration period with the skins, the wine matures for a year within stainless steel vats. This is followed by six months of careful nurturing in French Oak barrels, culminating in three months of refinement within the bottle itself. Serving it at 18°C unlocks its full potential, and its 750ml format ensures that each sip is a sensory experience to cherish.
A Testament to Sustainability and Terroir
Capricci Toscana IGT Rosso 2021 is not just a wine; it's a celebration of sustainable practices and the unique taste of the land from which it originates. The grapes that form the heart of this wine come from vines that have weathered more than 50 years and bask in the sight of the sea, just a short drive away from the historic town of Scansano and the gateway to the Tuscan archipelago, Porto Santo Stefano.
Maremma's Unique Tapestry, Terroir at Its Best
The vineyard's terroir is a breathtaking mix of clay and sandy soil that thrives at an altitude of 350 meters above sea level. Maremma's scant rainfall bestows the grapes with an intensified flavor profile, turning them into the embodiment of excellence. Hand-harvested from the Mandorlaie locality in Scansano, Tuscany, these grapes contribute to the creation of Capricci's distinct character.
Unveiling the Blend of Craft and Culinary Art
Capricci Toscana IGT Rosso 2021 isn't just a wine; it's a companion to gastronomic delights. With its full-bodied nature and robust structure, it perfectly complements antipasti of crostini and cold cuts. Its richness also harmonizes beautifully with pasta dishes, embracing flavorful sauces with grace. Serve it at an ideal 18°C temperature, and relish it in the 750ml format for a dining experience that transcends ordinary.
Exploring Excellence Beyond Labels, IGT and DOC/DOCG Wines
The realm of wine often puts DOC/DOCG-labeled wines on a pedestal, but the true connoisseurs know better. The IGT category is a playground of innovation, allowing winemakers to craft exceptional creations free from the constraints of regulations. Capricci Toscana IGT Rosso 2021 is a living testament to the brilliance that can be born from this freedom.
Embark on a Journey to the Source, Maremma winery Beckons
The gateway to the exceptional Capricci lies at the doors of Tenuta Le Mandorlaie, a revered Maremma winery. Their secure online shop welcomes you to explore and acquire this gem firsthand. Seize the opportunity to be part of a tradition that is both timeless and innovative, all in the comfort of your home.
Celebrate Each Day with the Best, Maremma winery's Finest
Yearning for the best Tuscan red wine? Let Capricci IGT Toscana Rosso from the Maremma winery be your answer. Its flavors, its history, its elegance – all await your discovery. Take a step towards excellence by visiting Tenuta Le Mandorlaie's online shop and indulge in the symphony of flavors that is Capricci. Make every day special with a bottle of this enchanting wine.
Our IGT Toscana Wine Products