Organic natural staircase and solar water heating projects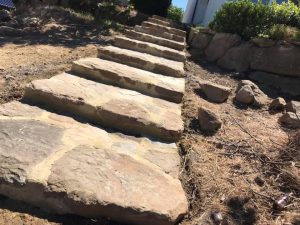 It has been a busy week here at Tenuta Le Mandorlaie, finally the weather and temperature has arrived, meaning no more heavy rain and humidity that could affect our grapevines. Many fungal related issues on vines come from the climatic conditions, so it is nice to have some hot dry weather.
Work on the farm this week also included the construction of a staircase between the house and the service road, giving easier access to the orchard and vine grove, the stairs were created using local Maremma honey coloured sandstone found around the property and we feel it really fits into the environment, it's construction using stones that were over 200kg each was a difficult job, the finished stairs were worth the effort!
Also on the project list this week was the addition of a heat tube solar water heater, so now all our hot water is created using the sun, excellent, feels good not to be reliant on gas for our water heating needs, and it's better for the planet!