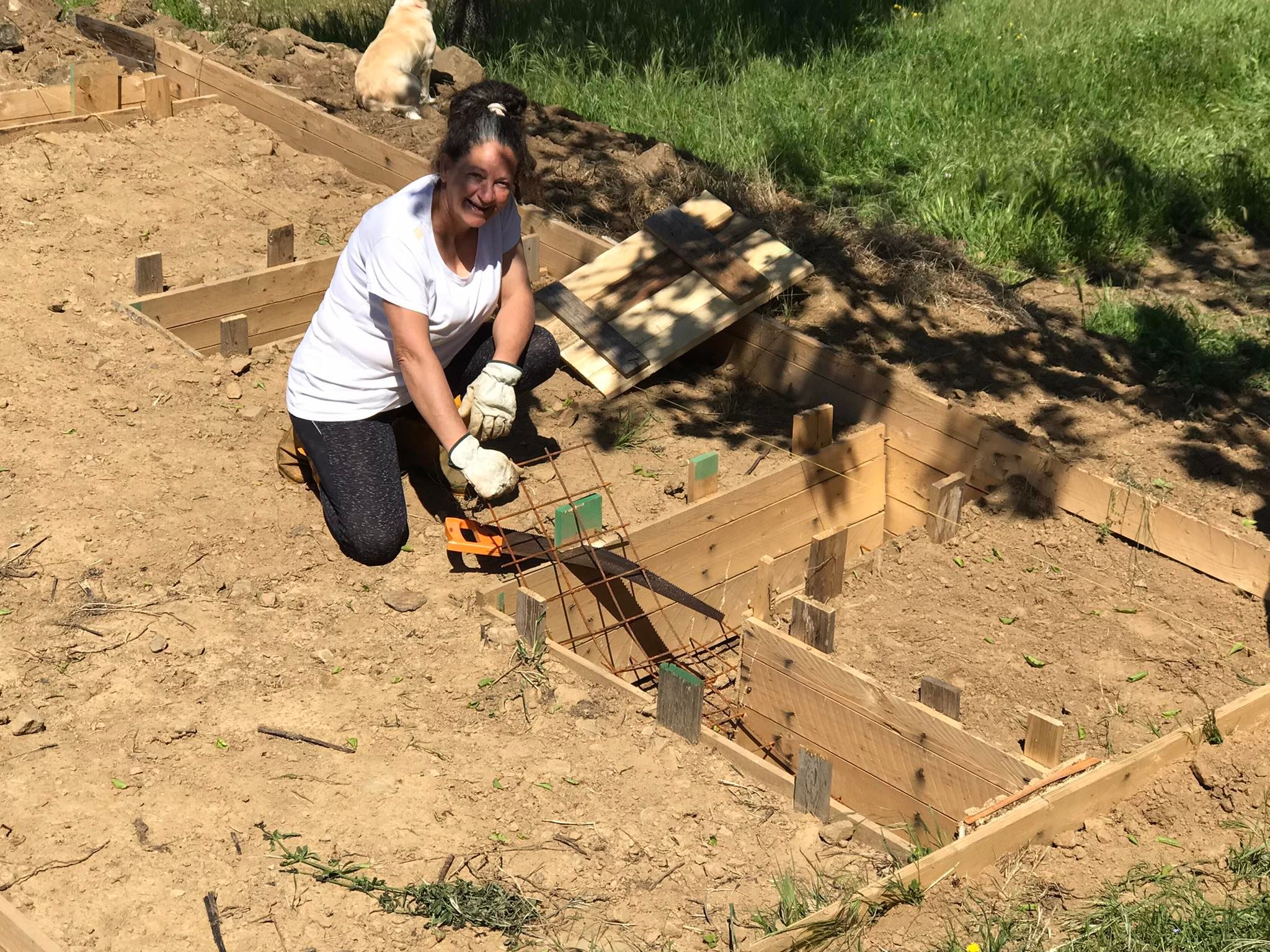 Our above ground Swimming pool project – Wooden Swimming Pool construction in Tuscany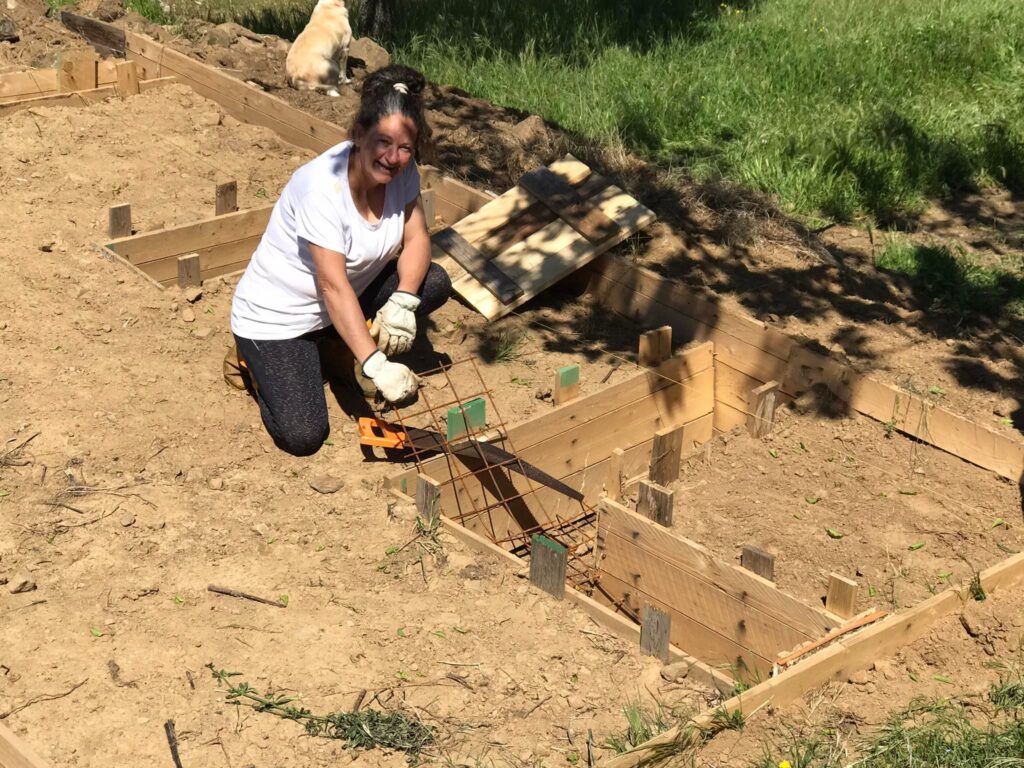 As part of our Scansano agriturismo farmstay experience in Maremma, Tuscany we wanted our guests to be able to relax and cool off in a pool, it does after all hit the 40s regularly here in the heat of Tuscan summer so to achieve this we decided it would be a great project to self-build our above ground swimming pool so we started on our wooden swimming pool construction.
Wooden swimming pool construction would mean more work, as only the cut wood and steel are supplied but there would be many benefits including being able to choose the method and pace of construction in order to ensure we were as ecologically sound as possible when it came to the materials we chose, as well as its impact on the land.
This is the first part of our blog post story on the pool construction.
The location of the pool was determined to be just after the end of the wall of the lawn and hedge, the reason being that the wall gave us a 4ft height, that would mean no excavation for the pool base, however it was not all to be easy for us, as our house is on a hill, the ground slopes away once you are past the lawn and its retaining wall.
Building up the base for our above ground pool in Tuscany
One one corner we were +60cm higher, the other corner +40cm higher, this was an area we would need to fill in order to get to our levels, luckily in the Maremma most of the soil covers rock, so fields have many rocks, other not so much, but where we were placing the pool was solid rock, this was good for us and it would limit any movement.
Once we had our approximate levels in place, and a rectangle of 4 stakes, marking the outside edge of the pool + 50cm, I started to bring large Maremma rocks to create the new base level, this proceeded slowly, some of the rocks were at least 500kg and tractor journeys were frequent. In the end however we had a rough base of large rock, we then used soils and smaller rocks to fill, all the way up to the level required.
Building the above ground swimming pool concrete form
The above ground pool, due to its size, 8m x 5m, and its depth 1.3m, contains around 43 cubic metres of water, which equates to 43 tons. This means that concrete box shapes 50cm deep, 40cm wide and 1.2m long would be used to secure in place the steel supports, as well as create a flat 10cm steel mesh reinforced base covering all the area of the pool.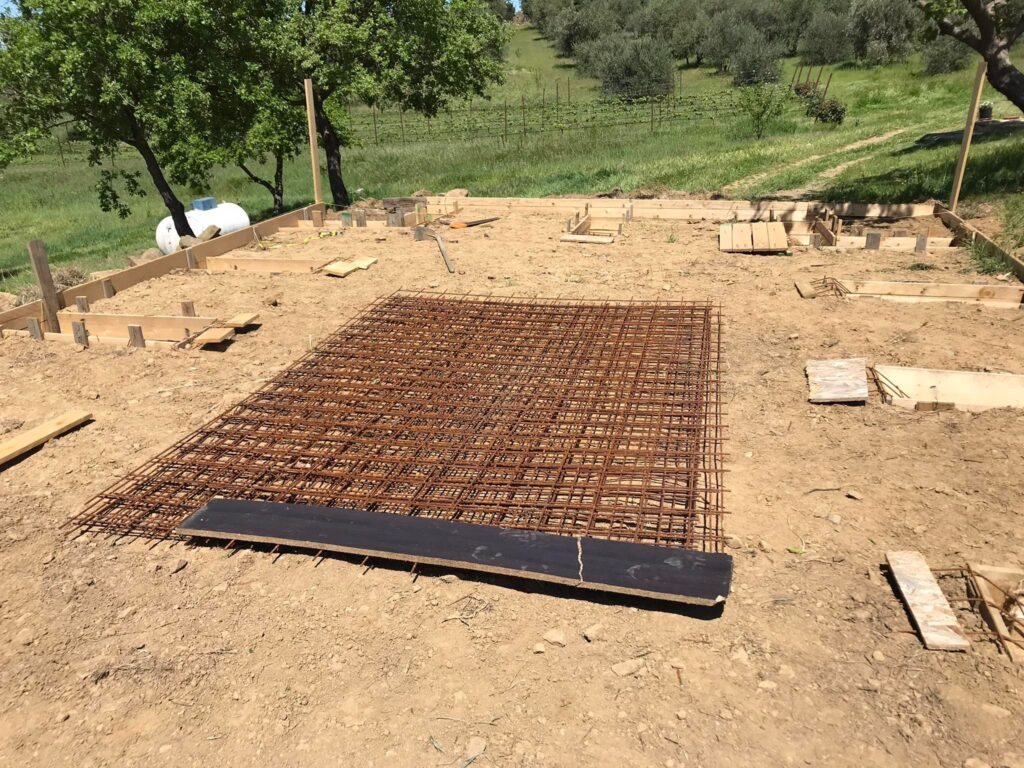 Where we are now
Now we are just completing the last form work, and getting the remainder of the base completed, next will come the addition of the steel mesh, and the steel support, and finally the concrete pour, oh, then the wooden pool construction itself.
Our next post will cover these steps, we hope to have further progress by the end of May. As we work we realise that it was a big tasks, taking on the build, but it was a build because we wanted to do it, and also it managed to allow us to have a pool at one third of an installed pool cost. I was always taught money saved is better than money earnt.

Getting ready for the concrete pour
Update: Going well at Tenuta Le Mandorlaie all the steel pool supports are installed and the reinforcement mesh tied together, the next step is the concrete pour hopefully in 2 days, weather dependent of course. The concrete pour will be of 6 cubic meters, with 2 cubic meters mixed by hand in order to create a thin top layer that is extremely smooth.
Pouring the concrete base
In total we needed 11 cubic meters of concrete, we split this into 8 cubic meters delivered via a cement truck, and then, after this concrete had hardened, we did a 2 inch layer over the concrete that only had sand in it, no stones, this gave us a very flat and smooth base ready to take the soft cloth that goes on the concrete before you add the liner.
No suprises really, just hard work
For the day of work on the concrete, its was overcast but warm, we managed to push the concrete around as required, and made sure all the supports were in the correct place. Concrete is heavy, and after a few hours Marthese and I were feeling worn out! We had a friend helping too, it was important there were three of us, as the extra pair of hands really helped us finish on time.
Once the cement was drying, I sprayed it with water every few hours until dusk in order to stop it drying too fast and cracking, we are very happy with the end result.
The end result, and building the deck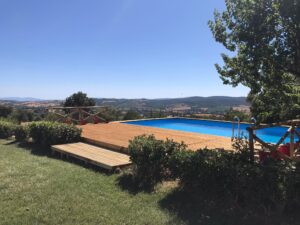 After the pool base was completed it was time to assemble the above ground wooden pool, this went smoothly, Marthese and I finished it in 2 days, we then added the liner, filled the pool with a few inches of water and cut the holes for water in and the skimmers, also the lights as we installed LED lights.

Then it was onto the deck, this was a simple construction and was built using a set of joists, set apart 50cms, then covered with the treated decking. We are happy with the end result, and we hope our future agriturismo in maremma guests will enjoy our above ground pool too.
Important note and disclaimer: When constructing any pool, including above ground swimming pool models, do your own research and use professionals where required, also ensure that you are applying for and receiving the correct permits from your commune. Our articles are not an instruction manual, or advice for your build it is purely meant as a record of our own experience when building our above ground pool in Tuscany.