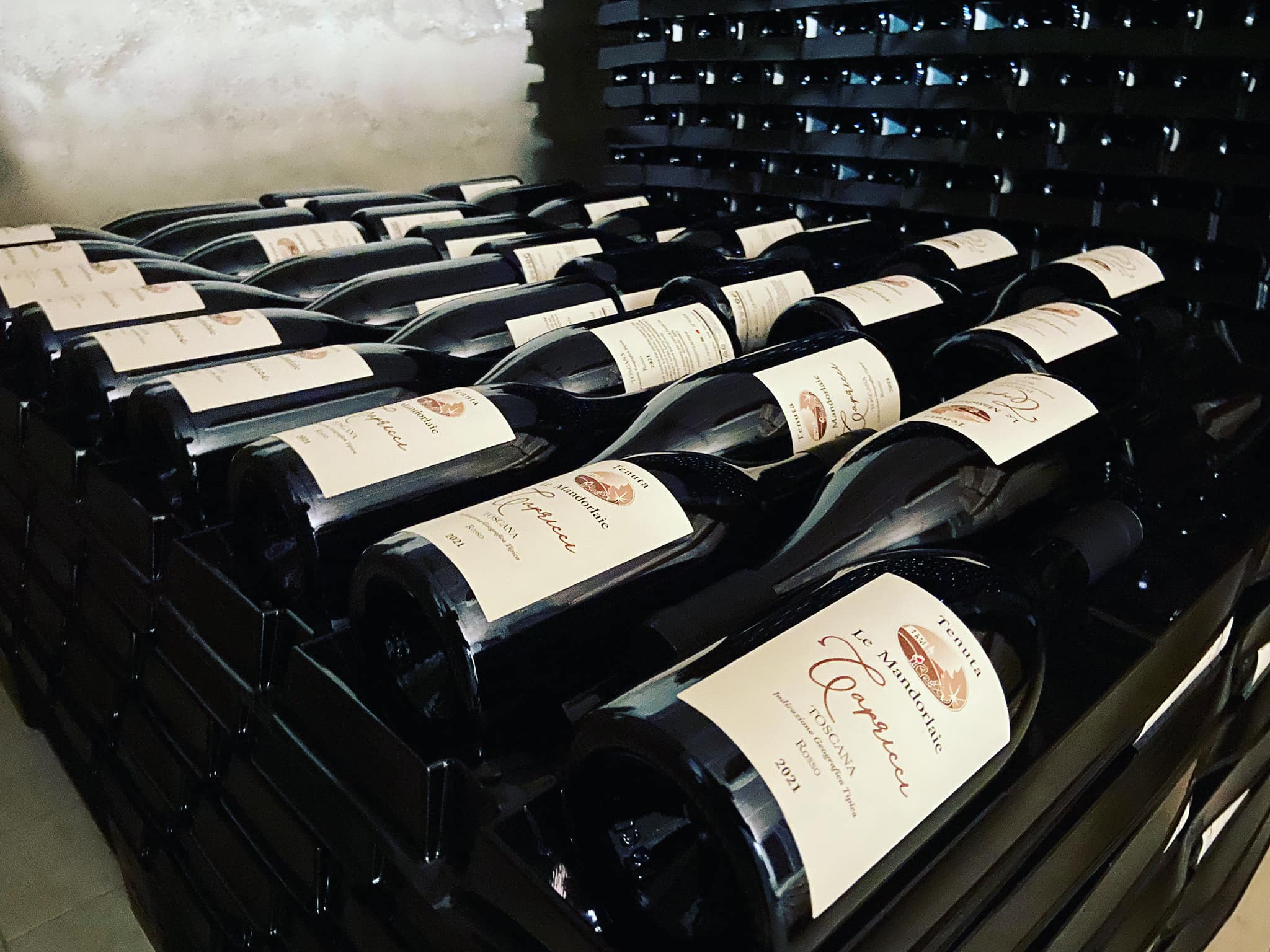 Red wine Tuscany Capricci IGT Toscana Rosso 2021

Dive into the exceptional Red wine Tuscany, day in and day out
Unearth the unparalleled charm of our exquisite Capricci IGT Toscana Rosso a wine that encapsulates the essence of extraordinary moments through its robust personality. Crafted from a harmonious blend of 90% Sangiovese and 10% other captivating red and white grape varieties, this libation is meticulously created by hand-selecting grape clusters from the Mandorlaie region in Scansano, Tuscany.
Through a precise fermentation process at controlled temperatures, including a 10-day maceration period with grape skins, this wine matures gracefully for a year in stainless steel vats. It then spends an additional 6 months refining in French Oak barrels, culminating in a 3-month bottle aging process. To truly appreciate its magnificence, serve this captivating elixir at the optimal temperature of 18°C and indulge in its generous 750ml presentation.
Capricci Toscana IGT Rosso — a reflection of refined taste — is a testament to our unwavering dedication to sustainable practices that honor and protect the environment. This wine, originating from vineyards boasting ancient vines over half a century old, is a product of the breathtaking landscape in sight of the sea, just a stone's throw away from Scansano and the picturesque gateway to the Tuscan archipelago, Porto Santo Stefano.
The vineyard's unique terroir, characterized by a blend of clay and sandy soil, rests at an elevation of 350m above the azure sea. Scarce rainfall in the Maremma region gifts the grapes with an intensified flavor profile, adding enchantment to every sip. Handpicked with meticulous care, only the finest grapes make their way into this wine through a rigorous selection process.
Embarking on a transformative journey, this wine ferments under strict temperature control at 25°C, undergoing a 10-day maceration period with grape skins. Subsequently, it matures in stainless steel vats for a year, refining its exceptional qualities. The final touch involves a nine-month sojourn in French Oak barrels, followed by three months of bottle aging. The result is a full-bodied elixir with an imposing structure, perfect for accompanying antipasti with crostini and delectable cold cuts, as well as harmonizing beautifully with pasta dishes adorned with sumptuous sauces.
Uncork a bottle of Capricci Toscana IGT Rosso 2021 and immerse yourself in an extraordinary experience that celebrates life's cherished moments.
Purchase red wine Tuscany from the Tenuta Le Mandorlaie secure online store
Hidden Gems of IGT and DOC/DOCG Wines
In the world of Italian wines and red wine Tuscany, the distinction between IGT and DOC/DOCG labels often casts IGT wines in a less "prominent" light. However, this perspective fails to capture the true essence of these exceptional offerings. Remarkably, numerous top-quality and innovative Tuscan wines find their place within the IGT category. This differentiation arises from the freedom given to winemakers under the IGT classification, enabling them to transcend the boundaries set by DOC/DOCG regulations. Capricci Toscana IGT Rosso 2021 stands as a remarkable testament to the splendor of IGT Toscana wines, destined to leave an indelible mark.
Embark on a Direct Journey to the Enchanting Allure of Capricci.
Embark on an extraordinary journey to secure your own bottle of Capricci directly from the esteemed winemaker, Tenuta Le Mandorlaie. Immerse yourself in an exquisite online shopping experience, exploring the exceptional offers awaiting you in their secure digital marketplace.
Discovering the Essence of Tenuta Le Mandorlaie.
Nestled within the breathtaking Scansano region of Tuscany, Italy, Tenuta Le Mandorlaie stands as a distinguished winery and producer of exceptional extra virgin olive oil. This esteemed estate crafts IGT wines and IGP extra virgin olive oil, both celebrated for their unmatched quality and tantalizing flavors.
IGT, or Indicazione Geografica Tipica, represents the embodiment of Typical Geographical Indication. It stands as a classification bestowed upon Italian wines, offering a balance of origin representation and flexibility in grape varieties and winemaking techniques. While red wine Tuscany IGT wines must originate from a specific geographic area, they possess the freedom to venture beyond the confines of DOC or DOCG regulations. This artistic liberation enables winemakers to embark on an exploration of untamed innovation, resulting in extraordinary creations.
The Symphony of Capricci Toscana IGT Rosso 2021.
Capricci Toscana IGT Rosso 2021 red wine Tuscany emerges as the pinnacle of Tenuta Le Mandorlaie's expertise. Cultivated from vines exceeding 50 years in age, nestled in Scansano's captivating Mandorlaie locality, this wine encapsulates the essence of the region. A fusion of 90% Sangiovese grapes and 10% other captivating red and white varieties, this elixir undergoes meticulous fermentation with a 10-day maceration period, orchestrated under precise temperature control.
Following this harmonious process, it matures gracefully for 12 months in stainless steel vats, followed by a gentle embrace of 9 months in French Oak barrels and a final three-month slumber in the bottle. The outcome is a wine of bold character and resolute structure, exhibiting a truly distinctive taste that echoes the terroir from which it originates.
Purchase red wine Tuscany from the Tenuta Le Mandorlaie secure online store
Our IGT Toscana Wine Products