Wedding in Tuscany, Maremma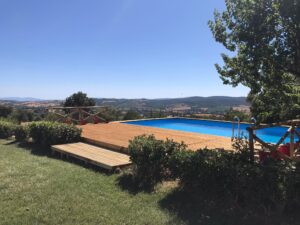 Are you planning your beautiful wedding in Tuscany and looking for a venue to hold you wedding party.
Perhaps you want to be surrounded by nature in the Tuscany countryside with rolling countryside as far as the eye can see and filled with olive groves and vineyards. If this is you, then we can offer you Tenuta Le Mandorlaie in Maremma, the unspoilt Tuscany.
Your wedding in Tuscany
We want to help make your wedding in Tuscany as special as it can be, we understand that it can be very stressful planing your event and want to use all our local resources to make it is incredible for you as possible while reducing all the tasks you need to accomplish to create the wedding ceremony you desire.
Our services and knowledge, from km0 and organic food, cakes, accommodation and transport, we want to use our experience to make your wedding event everything you will love.
Surrounded by organic vineyards and olive groves
Tenuta Le Mandorlaie is situated in Maremma, the South of Tuscany located just 30 minutes for the beautiful unspoiled Maremma coast. Our farm is on just over 58 hectares and we are an organic farm that has olive groves and vineyards that produce our IGT wines and organic IGP extra virgin olive oil. We also host guests in our agriturismo and have amazing spaces and gardens around the main house and offer the venue to host your wedding in Maremma, Tuscany.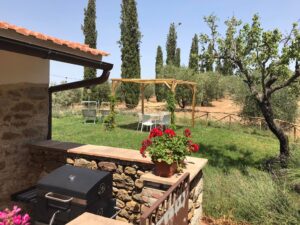 Setting up your Tuscany wedding ceremony location, the choices
We love to deliver to your expectations, and can give you the opportunity to have your wedding party and ceremony in several locations around the grounds, vineyards and olive groves at Tenuta Le Mandorlaie.
Around the property we have beautiful locations on the lawns overlooking the vineyards and olive groves with views all the way to the sea, we can also offer locations in the vineyards, surrounded by 70 year old grape vines that create our IGT wines. The olive groves are also magical, surrounded by 5metre high olive trees and rolling Tuscany country views.
Food and drinks for your wedding in Tuscany
We all enjoy different foods, and at Tenuta Le Mandorlaie we work closely with local suppliers to deliver authentic Maremma dishes, along with any other foods you would like to be served at your wedding event. We can cater wedding food to order and will cook km0 authentic dishes using only the very best local ingredients, also vegan and vegetarian dishes are available.
When it comes to wines, we are surrounded by some of the worlds leading vineyards producing incredible DOCG wines. We also produce our own reserve IGT wines and prior to your wedding event we can work with local vineyards to arrange wine tastings, to give you the full opportunity to enjoy the very best Tuscan wines from the area.
5 Things to Consider when choosing your Tuscan Wedding Venue
When choosing your wedding venue in Tuscany, the day is yours but you will obviously thinking about your guests and having them there with you to celebrate your event, some items to keep in mind when planning are;
the season, choose when it will suit you

guest travel options

accommodation for your guests

number of guests

food and drink preferences
Most frequently asked question about planning your wedding in Tuscany
What is the best month to get married in Tuscany




The months of May and September are the great times of the year for a Tuscan wedding due to the rolling green hills, great temperatures and more stable weather than the winter months. June, July and August are also great months to have your wedding ceremony or wedding party but only if  you don't mind the heat.
If you would like more information about having your wedding in Tuscany then please contact us via email
We look forward to helping you plan your incredible wedding event in Tuscany at Tenuta Le Mandorlaie

Teresa & Stuart