August is coming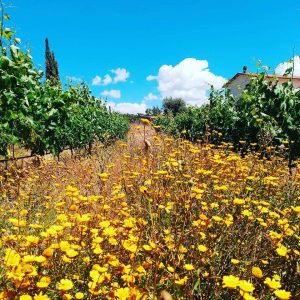 Summer is upon us, the heat is on, those hot days and cool evenings when its just right to relax and enjoy food and wine with friends in nature.
That said, all year is special when you are in Maremma surrounded by nature but the balmy summer evenings with guests and friends are made even more special when accompanied by great food cooked by Marthese, and some incredible organic wine, supplied by the vines and earth around us.
What will we be doing this August at Tenuta Le Mandorlaie?
Although it will be the time of holiday for most of Italy (in August most companies all close at the same time, giving their employees the annual leave all together) infact it is holiday time for most of the world, but life on a farm goes on and we have many projects to work on and complete.
Harvests are approaching
One of the most exciting times to be on the farm, we need to get ready for the harvest of the grapes, and later, the harvest of the olives. This means servicing equipment, getting the olive nets ready, organising a new trailer to be used to get the grapes and olives moved around the farm.
More plants for the farm
We also have more plants to go in, as well as do some lawn maintenance, cut some new irrigation ditches for rain water dispersal and retention and lay some new irrigation lines for the lavenders just planted near Lavender cottage. Some walls need painting, and there are 3 new gates to be built and installed around the farm.
There is never a dull moment working on a farm, and getting up with a purpose is always a good way to start the day.
We hope to see you soon in Maremma.