Buy Extra Virgin Olive Oil online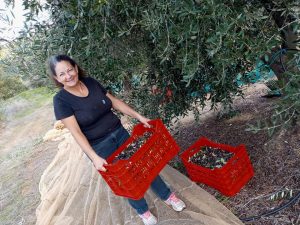 At Tenuta Le Mandorlaie it was always our dream to make an incredible organic extra virgin olive oil that we could use to support our income as farmers and that all our friends and family could have an organic extra virgin olive oil available to them.
Over the first two years at our new farm home we worked hard to get all the trees happy and in production, are we finished yet, no, but that is OK, it will take us many years to get all the trees back to full health, and with over 900 trees and 5 varieties of olives, it is a continual process of pruning and caring for the organic environment around the tree's, and seeing the whole ecosystem required to be healthy in order for the trees to be healthy.
Currently we produce just over 800 litres of organic extra virgin olive oil every year, we harvest in October and press immediately at the olive mill, in order to get the freshest top quality olive oil. From this point the olive oil is stored in a temperature controlled environment and then bottled when we need to ship orders to our clients.
Buying olive oil online
You can buy olive oil online to enjoy at home, it is great on salads, used when cooking and even when frying as long as it is not allowed to smoke in the pan. We really enjoy knowing that our olive oil is organic, and as part of your diet has been proven to aid health in many ways, for more information, read more here on the benefits of olive oil.
What Olive oil bottle sizes do we sell?
We ship out olive oil in dark glass bottles, in sizes 250ml, 500ml, 750ml and 1ltr. We also offer 5ltr size and this comes in a sealed dark green tin, this can be used to decant into your own bottles when it is needed to be used.
Shipping to you
Shipping from Tenuta Le Mandorlaie happens two times a week, when you order is made online we will advise when the product will ship and give an estimation of the arrival time based on your location and the shipping method used.