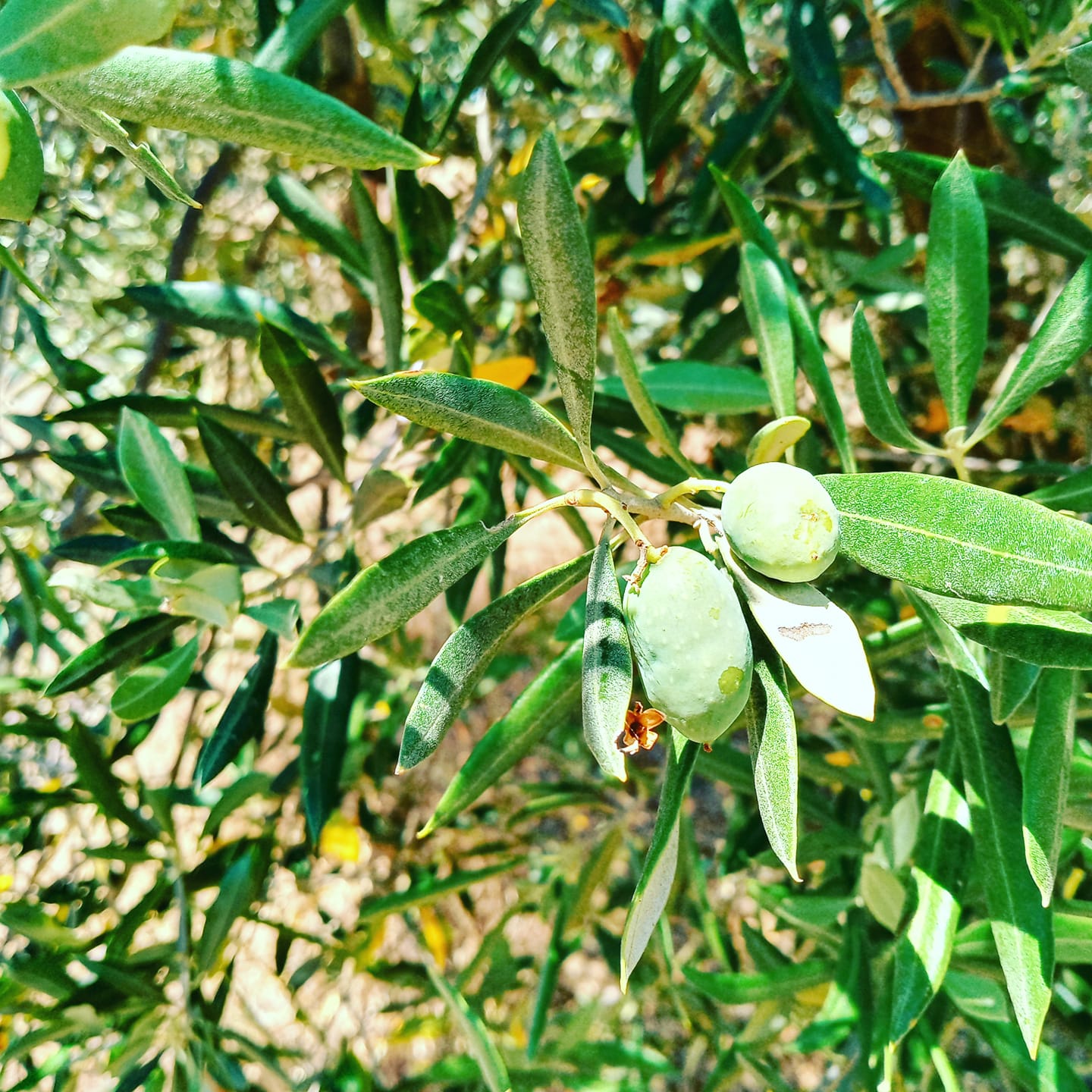 When to harvest Olives at Tenuta Le Mandorlaie

Harvesting Olives, when?
When we start to see the olives changing colour from green to black, we decide when to harvest olives. The trees in our land are separated by distance, location and some by altitude and all these individual or combined factors, lead to differences in;
heat

cool

access to sea breezes

humidity changes
Machinery used for olive harvesting in our organic Olive groves
In order to move forward with new technology and to help us work more efficiently, this year we invested in lithium-ion powered harvesting tools, these harvesting head tools are mounted on poles giving us up to 3.5m height in order to harvest the top of even our tallest olive trees.
The machinery is based around the same technology as our older air compressor tools, whereby a head comprising of two interlocking large forks, sweep past each other thereby knocking off the olives. These tools have been refined in our newest version from agritec and they are manufactured from carbon fibre and high tech plastic composites giving them extreme strength and light weight.
The difference between our old tools and the new tools are;
lighter weight, harvesting olives all day is hard work, the lighter the tools the better for us

easily adjustable speed giving us control over the speed of the harvesting head

wider harvesting head, meaning less downward strokes to remove the olives from the tree

lower cost,  our new tools only need recharging, our old tools had a compressor run by a tractor that was driven by diesel
Hours and tasks carried out when olive harvesting
Olive harvesting is very labour intensive, we use the best tools we can, but every tree is set in a patter 8m x 8m apart, we need to carry out the below operations to begin harvesting;
prior to harvesting the grass needs cleaning under the trees to allow easy working

any small shoots need to be cut from the base of the trees

on harvest day, large nets 25m x 8 m are laid on the ground, overlapping each other

harvesting can commence, but not if it is raining

once olives are in the net, they are collected and put into containers, each container takes 20kg of olives

olives are driven to the mill within 12 hours to be pressed, any longer and acid can start to form changing the flavour profile

thew nets are re-positioned for the next days olive harvesting
Cost for the harvest
Costs for olive growing, care, fertilization, harvesting, pressing and bottling occur throughout the year, the end result is extra virgin olive oil bottled and ready for the consumer, the costs we experience as an organic olive farm producing organic IGP Olive Oil Toscana are below;
organic land certification fee, due every year

IGP Toscana certification fee, due every year

pruning cost, each tree needs pruning to keep it strong and in good condition, between Teresa and myself we can prune around 40 trees a day so around 20 days of olive pruning to cover all our trees correctly

grass cutting, 10 hours of tractor work, so fuel costs and wear/tear on tractor

harvesting machinery, initial cost and depreciation

nets, purchase and depreciation, we operate 10 nets of 25m x 8m and some small nets for corner trees

transport to the mill, daily throughout the three weeks of olive harvest

Olive mill costs for pressing and filtering

Olive mill cost for storage

Olive mill cost for bottling, including bottles

cost for labels for bottles
Our passion, creating organic IGP certified Extra Virgin Olive oil
I hope you can see from the above short description of when to harvest olives, that farming olives is a passion, it has much cost outlay, and currently the pricing is very low due to the world markets.
At Tenuta Le Mandorlaie we will continue to make our premium extra virgin olive oil, its is important that we look after the land, the trees and ecosystems around us whilst producing a product that is healthy and you know where it comes from.
Knowing where our food comes from, is important, we believe in the new european 'Farm to Fork' strategy, pushing on more farmers producing organic quality foods, sustainably.
Support us and organic farming, buy some of our incredible IGP Olive Oil Toscana